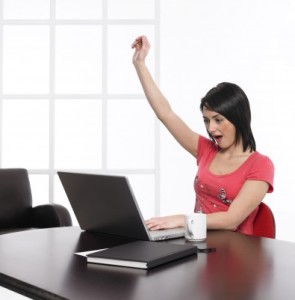 Everyone wants to be published, to see their name in print and enjoy that glow that comes from a publisher or a magazine editor saying, "I like it! I want it!"  
That email of acceptance from the editor is what we're all hoping for when we do a writing course, be it travel writing, magazine journalism, short story writing or whatever.
But there are some scam artists out there who know how keen people are to see their work in print. They know exactly what buttons to push.
A True Story
So if you like to write poetry and saw this headline on the Net, you'd probably enter:
Poetry competition: big money up for grabs!
R9000 prize money. Free to enter!
It  goes on to ask for no more than 25 lines of Christian poetry.  This advertisement appeared in the Berea Mail last year, giving the deadline for entries as 30 September 2009.
One of our students entered and was thrilled to be told her poem would be included in their forthcoming anthology.
Oh, and would she please send R350 for a copy of the book.
Alarm bells should have been ringing loud and clear at this point, because it's usually the other way round. The publisher pays YOU, either a flat fee or in the form of royalties. But if you've never been published you might not know this, so she paid the money and waited for her copy. Twice she was contacted and told "The publication date has been put back" and when she finally phoned ten months later, she was told they were no longer able to publish the book, no reason given.
"Er- what about my R350?"
"We're working on the refunds."
A full year later, she is still waiting.
She got onto HelloPeter.com, a site where you can vent your spleen about bad service or rip-offs, and discovered another woman in the same boat. In fact, this poet had been gulled of an extra R200 for the pleasure of seeing her photo above her poem!
There were probably a great many poets who sent their work, were "accepted for publication" and paid the money.
This "competition" is still being promoted on the Internet, on two different sites, only this time there is no deadline to enter.
Google it and read the inviting text.
That same "Christian Poetry Association" has a website offering books of Christian poetry for sale. Guess how much they cost? R350. You have to wonder whose poems are included in these!
All attempts to contact the Christian Poetry Association have failed. The email is no longer working although they still have Box number and a fax number.
 Reputable competitions
Remember: Free-to-enter competitions are very rare – and usually sponsored by some literary society, a university or a college.
SA Writers' College and NZ Writers' College sponsor an annual free-to-enter fiction contest. We're in the business of promoting and encouraging writers.
Many writing competitions charge a nominal amount to enter and use that entry fee towards the prize money.  To make certain that the competition isn't a scam, do a Google background check. Check past entries, judges and winners' stories.
Competitions are a wonderful way for the serious writer to gain acknowledgment and even publication. Keep an eye on our college home page where we frequently list the top international and national writing competitions. And yes – they are the real thing.
About the Author:
Ginny Swart started writing short stories in 2001, and to date has sold over 450 short stories to women's magazines all over the world. Her more serious work has appeared in literary publications in South Africa, Canada, and New Zealand and on the Web. In 2003 she won the esteemed UK The Real Writers Prize from over 4000 entrants. Ginny tutors the Short Story Writing Course at SA Writers College, NZ Writers' College and UK Writers' College.