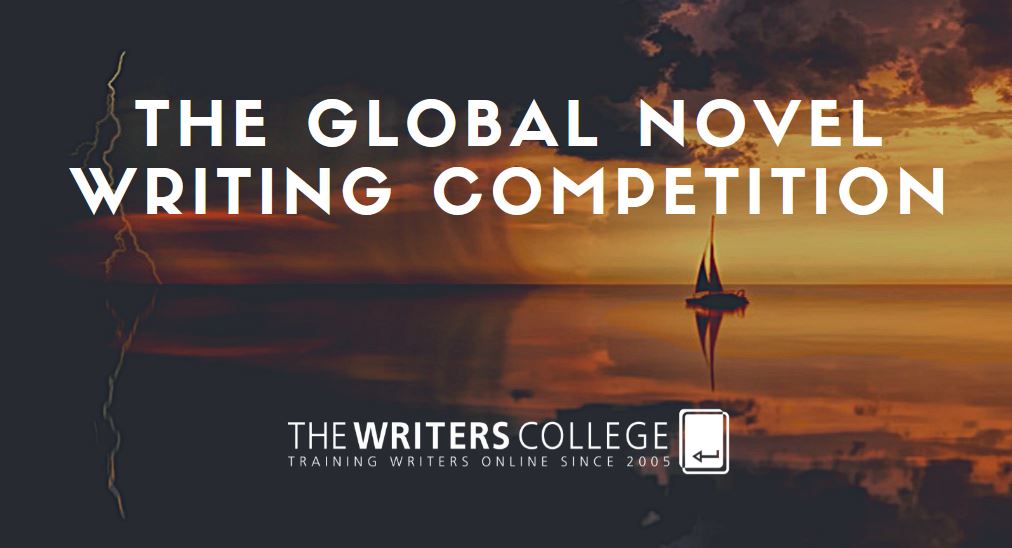 Struggling to write your first novel? Tired of not knowing if your idea's any good, or how to tie up all those half-written chapters?
Well, we've got a solution for you.
The Writers College Global Novel Writing Competition is open for entries.
We are searching the world for the next big thing in literary circles! And it could be YOU. Regardless of where you are in the world, you can enter. The winner receives up to 24 months of mentoring with an award-winning writer to the value of $4000.00.
To enter, submit a novel proposal in any genre.

We are looking for a writer:
with a fresh voice and style,
a publishable concept,
seriously passionate about writing,
with excellent grammar and punctuation skills,
who wants professional mentoring to create a polished, finished, publishable novel.
DEADLINE: 31 July 2022
LONGLIST PUBLISHED: 31 August 2022
WINNERS ANNOUNCED: 30 September 2022
PRIZES:
First Prize: Win the full Write a Novel Course (value $4000; 24 months of mentoring with an award-winning writer up to 70 000 words)
Two Second Prizes: Win the part Write a Novel Course (value $1695; 12 months of mentoring with an award-winning writer up to 25 000 words)
JUDGES:
Entries will be judges by our team of award-winning authors: Alex Smith and Andrew Salomon.
COMPETITION RULES:
Entry is free.
All submissions and enquiries can be sent to Nichola Meyer: Nichola@nzwriterscollege.co.nz
The competition is open to any writer living anywhere in the world.
Entrants must submit a full novel proposal. This includes a cover letter in the body of the email, as well as one sample chapter in the body of the email. The cover letter can tell us a bit about your novel and you as the author.
The proposal must be attached as a Word document or PDF, including the first three chapters (or up to 6000 words) of the novel, and a rough chapter synopsis outlining the contents of the entire novel. As we teach you how to put together a professional proposal on the course, we aren't evaluating the actual proposal but rather the quality of your novel and your writing.
Only one proposal per entrant is allowed.
Entries can be in any genre (sci fi, spec fic, crime, romance, historical novel, humour, memoir, literary, etc)
We only accept entries written in English.
The competition closes at midnight on 31 July 2022. The longlist will be published by 31 August, and the winners announced and displayed on our website on Thursday 30 September 2022.
Prizewinners will be notified via email as well as on our website; please ensure you supply a valid email address with your entry.
Prizes will not be transferable into cash.
Stories must not have been previously published. Entrants must own the copyright to the story submitted.
Writers retain full copyright over their work.
All entries will be kept in the strictest confidence and deleted once the competition is over.
The judges' decision is final; no disputes will be entered into.
If your entry has not been acknowledged within three working days, please contact us as your email may have got lost in transit.
The Writers College reserves the right to extend the competition deadline or cancel the competition should the entries not be of publishable quality or up to the required standard.
ENTRY FORMAT:
Only e-mail submissions are acceptable. The cover letter and a sample chapter must appear in the body of the email. The proposal (first three chapters/6000 words and a chapter synopsis) must be attached as a Word or PDF document.
Mark your email clearly with the subject line: Writers College Global Novel Writing Competition.
Do not include your name on any page of your manuscript or chapter synopsis. All entries will be judged blind.
Use a font such as Arial or Times New Roman, size 12 or more. Use 1.5 or double spacing between lines.
Make sure your story has been edited and polished. Download Grammarly (the free or paid version) if you need extra help with grammar and punctuation.