GINNY SWART explains how to sell your short stories to magazine fiction supplements.
"Only five more shopping days to Christmas!" Does this sign raise the level of your Christmas anxiety? Like most of us, do you fit your Christmas shopping into the frantic week before December 25th?
Fiction editors of magazines don't have this problem. Long before your supermarket has hung the tinsel and switched on the electronic carols, magazine editors prepare for the festive season.
When to submit your story
Most of the popular magazines publish a Christmas Special where they use ten or more short stories of different lengths, all with some sort of Christmas theme. So you have a better chance with one of these than if you aim at the weekly, where the stories a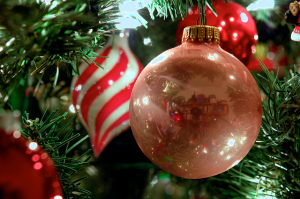 re often limited by the advertising and word count is either 1000 or 1500 words.
So once you realize that Christmas in Magazine Fiction Land doesn't happen in December, it happens in June, or at the latest, July, you've cracked the first submission hurdle!
Writing Christmas-themed stories in the middle of the year can be difficult. Sometimes you're writing for a magazine across the world and you have to imagine the snow and mulled wine and heavy overcoats, or you're writing for the Southern Hemisphere and it's all picnics on the beach and iced drinks by the pool.
How the editors work
Editors expect the Christmas stories we submit to hit their in-box with "Christmas Theme " blazoned across the subject line, and like squirrels, I think they silently collect them and bury them in a file somewhere.
Sometimes editors acknowledge receipt of your story (if they are that way inclined) but many fiction editors these days just say nothing. At some point before Christmas, they read through the submissions and make their selection from all the literary gems they have been hoarding. Or perhaps they read them as they come in and file them under "No, never" or "Maybe" or "Definitely." Who knows? The ways of fiction editors are mysterious and unless you have been lucky enough to be employed by a woman's magazine, or any monthly/ weekly publication, you'll never understand how they work.
When, sometime in November or early December an acceptance pops up in your Inbox, you can celebrate. But if your story isn't accepted, there isn't anything you can do about it for the current year. By then it is far too late to sub anywhere else and the only thing to do is file it away until next year and make a note on your calendar to submit it to a more appreciative editor the following year.
Keep track of your writing
This is where keeping track of your submissions becomes very important. A story can do the rounds for five or six years running before it is finally accepted and you don't want to submit to the same magazine twice by mistake.
So, if you're thinking of submitting a themed story, always submit it to the editor at least six months in advance.
You're probably too late for Valentines' Day (14th February) but you might be in time for Mothers Day in New Zealand or South Africa if you hurry. (Second Sunday in May)
About the Author
Ginny Swart started writing short stories in 2001, and to date has sold over 600 short stories to women's magazines all over the world. Her more serious work has appeared in literary publications in South Africa, Canada, New Zealand and on the Web. In 2003 she won the esteemed UK The Real Writers Prize from over 4000 entrants. Ginny tutors the Short Story Writing For Magazines Course at The Writers' College.
Feedback about Ginny Swart's writing course:
"I enjoyed every minute of the course and was challenged with every module. It was a scary experience, but pleasant. My tutor was always constructive in her criticism and helpful throughout. The course met all my objectives." Sandra Dianne Samuels, Short Story Writing Course
"Although the course was challenging, I enjoyed each and every module. The course notes encouraged me to discover my strong points and weaknesses. Ginny's the best. She supported and encouraged me throughout and I'm grateful. She developed confidence in me which I never had before. The Writer's College is the best in our country." Stella Bopape Short Story Writing for Magazines
"It was a great course. Ginny was excellent. She allowed me to pursue my own agenda whilst keeping me within the confines of the course. Her feedback was specific and relevant to me, my writing and the course itself. The course was great for extending my skills, increasing my confidence and providing opportunities and frameworks for writing." Simon Goodwin, Short Story Writing
"It's such a practical course and I learnt so much from writing so many complete stories. Ginny was always so fast with her feedback, which was always constructive, detailed and honest. She does not only tell you what you're doing wrong, but how you can fix it in a way that suits you and your style best. She was open-minded and a pleasure to trade ideas with! I wanted to overcome the barrier of writing a good story, but not being able to battle it out to create a final, well-rounded product. Doing the course is exactly the boost any aspiring writer needs without being influenced by too much technical detail." Tania Terblanche, Short Story Writing for Magazines
"Ginny is an excellent tutor who surpassed my expectations and made it all an enjoyable experience. She offered lots of encouragement, fair evaluations and plenty of tips for improvement. Ginny responded quickly to my emails and assignments (I was anxiously waiting!). I will recommend the Writers' College to others because of the experience with my tutor. Initially I looked at a cheaper course (based in Sydney), but on reflection I'm glad I chose a course that assigned an individual tutor. I am happy with my experience and may consider taking other courses." Pamela Ferla, Short Story Writing for Magazines
"I was really pleased with the overall experience, thank you. Ginny was excellent and very encouraging. I feel more informed about my writing and motivated to carry on." Kay Wilson, Short Story Course
"It was an excellent course; I learnt more than I expected. Ginny was terrific, she made it fun and had very insightful comments and great advice." Lawrence Shaffer, Short Story Writing
"The Writers' College was the only company that offered such specific courses combined with flexibility. My objective was to get back into writing, finish some pieces and improve my writing confidence. I've achieved all of these and I hope to have my first sale to a magazine in the near future. It was a good experience and a valuable learning curve. There were a lot of resources, I would like the forum to have been more engaged but it's still new so that will come with time. Ginny was awesome! She gave great feedback and was very supportive and motivating without being pushy. She was super speedy with marking assessments and very patient when I was slugging along at a snail's pace." Christie Williams, Short Story Writing Course.
"The course was challenging for me, since I'm more into writing novels, but I had a lot of fun and learned a great deal. Ginny is simply great! She's right to the point yet kind and inspirational! Gives you a lot of advice and courage. She's a great writer herself and an excellent tutor; it's sad that the course came to an end." Natashja Singleton, Short Story Writing for Magazines
"It really was great fun, and very stimulating. Took me back to Varsity days and theological college with the pressure of deadlines for submission! Ginny was great! May well do another course! She was mature and sensitive, with a wonderful sense of humour! Amazingly prompt with her feedback and knows her course extremely well! A very worthwhile experience, pitched at a very practical level, not too academic, and extremely stimulating. Strongly recommended." Ray Horocks, Short Story Writing Course
"The course is thorough and well thought out. I liked the clear directions for presenting one's story and the many contacts given. Ginny Swart is an excellent tutor, always ready to answer questions and to help with difficulties. She is a credit to the college. I enjoyed the course very much." Elizabeth Macdonald, Short Story Writing Course
"Ginny is an excellent tutor. Her kind comments help you to correct your mistakes whilst still encouraging you at the same time. Despite her huge portfolio, Ginny manages to make you feel that you too could someday be successful. I have learnt so much from her. I started off just wanting to see if I could write and now I am submitting every story I finish. Overall, the course was excellent. Good value for money!" Yael Barham-Smith, Short Story Writing Course
"Ginny was very supportive throughout the course. Her feedback was fast, fair, always constructive, encouraging and motivating. I had loads of fun doing the course. Everything was very good and Ginny was excellent." Belinda Jubber, Short Story Course
"Ginny was fantastic. She was quick to assist me and always managed to mark my assignments quickly. She gave me the confidence and knowhow that has been holding me back from writing seriously. My aim with this course was to put into practice all that I have learnt with my studies (I obtained my Honours degree in Theory of English Literature at the beginning of the year) and to get objective feedback on my writing. This course was a great help to me and I would definitely recommend it to any aspiring writer!" Hannah Green, Short Story Writing
"I thoroughly enjoyed the course and benefitted from the material, Ginny was an outstanding tutor…..P.S. You guys really do provide an outstanding service to us would-be writers." Varsh Patel, Short Story Writing Course
"Can't say enough about my tutor really. Ginny was fantastic! I loved her prompt marking and chatty emails. Right from the word go, Ginny was more than friendly and very, very encouraging. This made logging on when waiting for the assignment results all the more exciting. We are still in touch, something I treasure very much. Every single one of my aspirations was met. I loved the discipline of working on the set assignments and also that my imagination was getting a workout. But what is really exciting is that all in the same week I got my course report and sold a story to a magazine!" Stephanie Attwood, Short Story Course
"I have to say this was one of the most enjoyable things that I have ever done. I am so thrilled with my result and found the feedback to be very useful in every regard and I have learned a lot. Can I also just say Ginny was wonderful! She has so knowledgeable and although strict with her assessment, gave very positive feedback." Ina du Toit, Short Story Writing
"I was very impressed by the service offered at the College. I was pleasantly surprised that the College was highly efficient and that I received my tutorials immediately. Ginny Swart is a brilliant tutor and I appreciated receiving her comments with every module. I have grown as a writer and will continue pursuing my writing dreams" Sumi Singh, Short Story Writing
"Ginny was not just a teacher; she became my friend and confidant during this course and I will miss her dearly." Sana Patel, Short Story Writing
"I could not have found a better college. I thoroughly enjoyed the course and Ginny is a marvelous tutor. Couldn't have been better." Gillian Palliser, Short Story Writing Course
"It's been an enriching experience and I am definitely a better writer than I was at the start of the course. It's been a pleasure and privilege to have Ginny as my lecturer. She taught me a great deal, and those lessons will continue to be of great value. Thanks." Cornelia Booysen, Short Story Writing Course
"I think you are the best distance college for creative writing. The universities couldn't offer me such a course – I tried them. Have so enjoyed your short story writing course. I was about to give up on the last assignment when I received your email which said 'keep going, keep writing, show up at the page.' It was the necessary push that I needed so I did just that. Thanks! The course met my objectives in every way. It was exactly what I wanted." Ann Hoffman, Short Story Writing Course
"Ginny is approachable and professional. Her feedback was prompt, honest, encouraging and the guidance she gave me is something I truly appreciate. With her assistance I am more confident, knowledgeable and positive about my future. Thanks Ginny!" Marie Duddle, Short Story Writing
"You have a great college offering a wide variety of courses, and after a spell of writing for magazines, I might return to do the novel course or maybe the children's story course. Such delightful anticipation. I wish to thank you and Ginny for looking after me so well." Lesley Maher, Short Story Writing Course
"Ginny is an excellent lecturer and was very helpful and extremely quick at getting back to me whenever I submitted an assignment. She also gave me a lot of advice and answered all sorts of questions I had." Carol Reed, Short Story Writing
"Just wanted to say a very big THANK YOU to Ginny Swart who has been a fantastic motivator and mentor since my very first assignment of the course. I'm learning to be cleaner and meaner with words, and it's deeply encouraging receiving her comprehensive feedback. THANKS A MILL GINNY, YOU'RE A STAR!" Widaad Munga, Short Story Writing
"Ginny is a wonderful tutor – her feedback is always encouraging and highly motivating and you get this incredible sense of safety – like she's a caring and nurturing 'mom' rather than a tutor and advisor. Thank you, Ginny – for everything! " Karen Jones, Short Story Course
"Thank you so much! I enjoyed the course through and through. Ginny was awesome. I wish all my lecturers were like her!" Talitha van Rensburg, Short Story Writing