Generating well-crafted news releases in our multi-media age demands speedy writing, editing and re-editing skills. Done well, it can win your company or clients valuable coverage.
If you've never had to do it before, writing a press release may seem easy. You have news to communicate about your client, you write it down as succinctly as possible, add a snappy headline and send it out to every journalist you can think of. But like any form of communication, things aren't always as easy as they seem.
Nothing makes a weary journalist hit the delete button faster than a badly targeted, badly crafted media release.
Media releases are a powerful content delivery system
Being a good publicist means knowing what constitutes good content. It means delivering the press release in a format that suits a variety of channels and platforms, from a daily paper to Facebook.
What's more, writing a good press release means knowing exactly how to present that content, and not, for instance, burying the news angle in paragraph three.
The media release is the basic building block of a strong media campaign

A well-written press release is the foundation of a strong media campaign, whether it's for a local fundraising event, or a major corporate takeover.
Once you've mastered how to write a press release, then it's just a short journey to reworking your release to suit a variety of platforms.
Press releases are generated for multi-media platforms
In today's fast-moving media environment, companies and individuals are more conscious than ever of the need to manage public perceptions of their brand and image. As a result, the demand for relevant, well-crafted content in the world of Twitter, blogs, podcasts, RSS feeds, YouTube and Facebook is constantly expanding.
Why train to write press releases?
Writing an attention-grabbing, persuasive release takes expertise and practice – a skill that must be honed. It's also a skill that is a vital for advancing your PR career.
Not only do PR writers need to master the correct format, structure and style for a standard media release, but they need to be able to adapt their copy across various broadcast and digital platforms too. There's a high demand for skilled publicists who can draft a punchy, persuasive media release to deadline, as well as speedily adapt it for use across a wide variety of media.
In the PR world, a publicist who can confidently deliver a 1,400 word media release, then adapt it into a 140 word online article plus a 140 character Tweet, is a valuable commodity.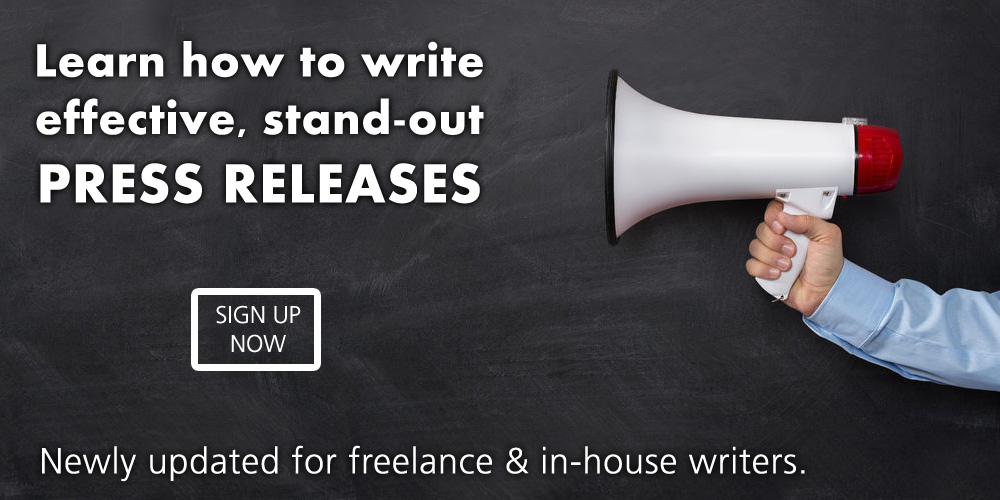 About the Author
Fiona Walsh has an MA in Communications from the City of London University, and almost 20 years' experience as a publicist, including as Publicity Manager for English National Ballet, Head of Press for the Royal National Theatre and Director of Press and Marketing for Bermuda Shorts Film, all based in London.
She has helped create media campaigns for a diverse range of clients in South Africa, including Sony Entertainment Television, Tourism Ireland and David Krut Publishing and, as a freelance publicist, for both the SABC and MNet. She has also lectured in public relations at Boston Media House, Johannesburg. She recently returned to SA from London, where she spent a year as Communications Manager at the National Theatre, with responsibility for managing the organisation's involvement in the 2012 Cultural Olympiad and Queen's Diamond Jubilee celebrations.
Fiona tutors the Press Release and Media Writing Course at the Writers College.
More about the Press Release and Media Writing Course at the Writers College
(SA Writers  College, NZ Writers College and UK Writers College)
This online course provides all the basic tools you need to write persuasive, professional media releases, from headline to final paragraph. Receive one-to-one mentoring by an expert in the field as you learn to write professional media releases.
The course also looks at applying your knowledge in practical ways and covers broader challenges such as effectively issuing press releases – from understanding your target audience to compiling a honed media list.
Training further includes:
choosing the right style for your release
dealing with the media
handling photocalls, and
establishing a professional reputation in the vibrant field of PR.
Feedback on this course from past students
"I loved it. It was a great course with detailed feedback from the tutor who was very knowledgeable about the industry. Fiona was great with giving feedback and motivating me to write." Lekha Gosai, Press Release and Media Writing Course
"The course was extremely well-structured and I appreciated the personal interaction with my tutor. I loved Fiona's promptness and her constructive criticism. I felt that I learnt a lot from her and was sad to have finished the course. I will definitely complete another course through the Writers' College." Lisl Whytock, Press Release and Media Writing Course
"I've found the course very helpful in terms of my job as a communications officer. I feel more confident of my writing of press releases now. The positive feedback of the tutor helped me a lot and encouraged me to think outside the box. She created an atmosphere that was conducive for learning. This course is value for your money, excellent if you don't have the time to physically attend a course. Great online services." Laticia Pienaar, Press Release and Media Writing Course
"I very much enjoyed the practical assignments; they gave me the opportunity to practice my skills. It's one thing to have notes but it adds such meaning when you actually have to apply them. I found my tutor Fiona Walsh to be prompt, considerate and generous. Her feedback after every assignment was always constructive and insightful; it gave me the tools to improve my writing. I found this methodology invaluable. Thank you. I am considering taking the Writing for Social Media Course later this year." Jann Robertson, Press Release and Media Writing Course
"I really appreciated Fiona's encouraging manner and her patience with me. I really enjoyed this course – thanks so much!" Lisa Wright, Press Release and Media Writing Course
"My experience with the course was very good. Feedback was given consistently and without delays between submissions; it was always professional and encouraging. It was a very well structured course. It reminded me about all the smaller things one needs to remember when writing." Portia Ntsaluba, Press Release and Media Writing Course
Photo Credit – Flickr.com: New York Times News Room