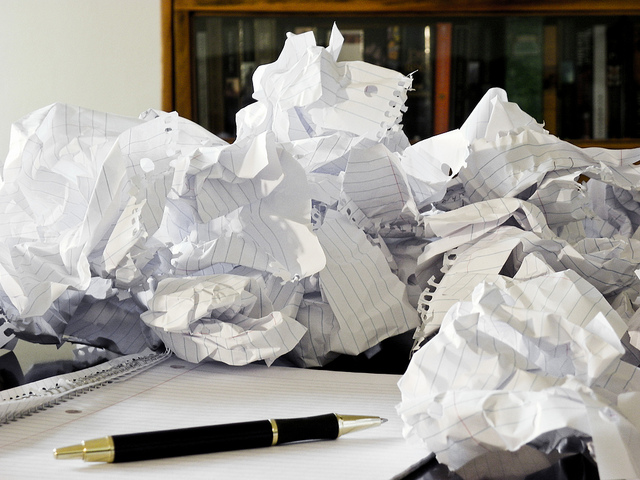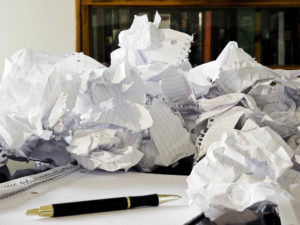 "There is no rule on how to write.  Sometimes it comes easily and perfectly: Sometimes it's like drilling rock and then blasting it out with charges." – Ernest Hemingway
Alle skrywers vrees die welbekende "skrywersblok":  wanneer jy die wit bladsy voor jou het, pen in die hand, gereed vir die eerste word, maar niks gebeur nie.  Daar is nie 'n enkele gedagte wat jy op die papier kan neerskryf nie.  Dit kan op enige stadium gebeur.  Halfpad deur 'n manuskrip of halfpad deur jou skrywersloopbaan.
Hoe gemaak wanneer dit gebeur?
Dit is nie permanent nie. 
Dit is belangrik om te onthou dit gebeur met almal en dat dit net tydelik is.  Soms is dit 'n bedekte seën en daar is nie rede om paniekerig te raak nie.  Jou energie en inspirasie sal terugkom.
Kom later terug.
Indien jy met 'n stuk skryfwerk sukkel, en dit voel of jy geen vordering meer maak nie, is die beste raad om dit te bêre en vir 'n paar dae, weke of selfs maande nie daarna te kyk nie.  Begin iets anders skryf.  Wanneer jy later met vars oë weer na jou ou skryfwerk kyk, staan jy soms verstom oor hoe goed dit is.
Hou aan. 
Probeer om deur die skrywersdroogte te werk, selfs al is dit die laaste ding wat jy op daardie stadium wil doen.  Dit hoef nie aan dieselfde stuk werk te wees nie – jy kan iets anders skryf terwyl jy wag dat jou inspirasie terugkeer.  Selfs al skryf jy gedurende hierdie tyd niks wat die moeite werd is om te bêre nie – dis net belangrik om aan die skryf te bly.
Gaan stap. 
Om die heeldag by jou lessenaar te sit en wag vir die woorde om te kom kan baie uitputtend wees.  Dit help om soms weg te kom en iets heeltemal anders te doen, soos om musiek te luister of een of ander fisieke aktiwiteit aan te pak.  Paul Rudnick – dramaturg, draaiboekskrywer en romanskrywer – skryf as volg:  "Writing is 90 percent procrastination:  reading magazines, eating cereal out of the box, watching infomercials.  It is a matter of doing everything you can to avoid writing, until about four in the morning and you reach the point where you have to write."
Baie skrywers is ywerige stappers – dit is asof die ritme van stap die skryfproses komplementeer en dikwels help om die gedagtes weer los te maak.
********************************************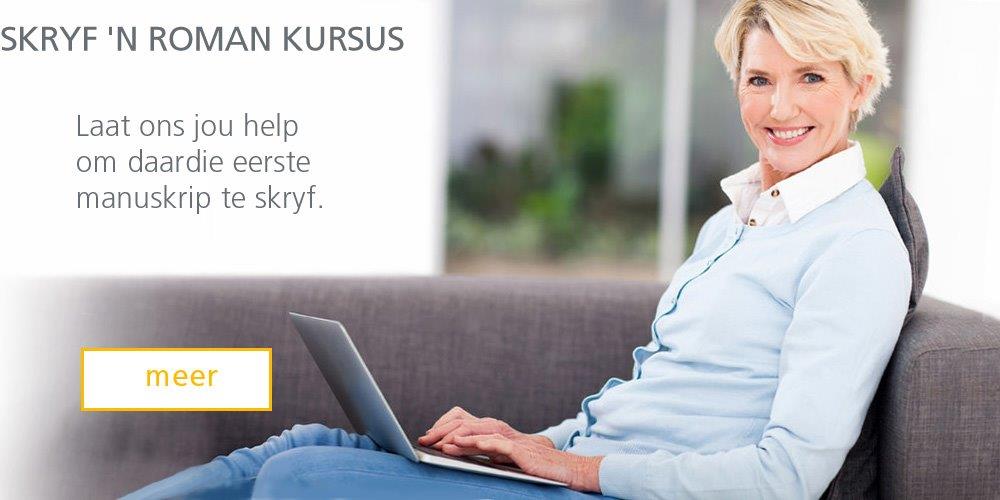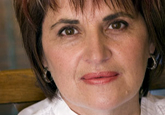 Sedert 2000 het Wilna Adriaanse 12 boeke geskryf en gepubliseer. Van die meer onlangse boeke is, Rebecca, Met ander woorde en Die boek van Ester.
In 2002 wen sy Lapa-uitgewers se Liefdesverhaaltoekenning. In 2009 word Die Boek van Ester benoem vir die M-Net prys vir Mees Verfilmbare manuskrip en dieselfde boek wen 'n ATKV/Sanlam Woordveertjie vir Beste Liefdesverhaal. Wilna se boek, Vier seisoene kind wen ook in 2011 die ATKV Woordveertjie vir Beste Liefdesverhaal.
Wilna het haar Meestersgraad in Kreatiewe Skryfkuns, onder leiding van prof Etienne van Heerden, gedurende 2011 aan die Universiteit van Kaapstad voltooi.
Wilna is sedert 2009 kursusleier vir die gewilde Basiese Kreatiewe Skryfkursus en die Skryf 'n roman kursus (SA Writers' College).
Terugvoer van Wilna se Oud-studente
"I do not have the words to describe the enormous contribution Wilna Adriaanse had to my development as a writer. She is an excellent tutor. She motivated and inspired me throughout the course. She was very prompt and clear with her feedback. She is an esteemed writer and it is clear why SA Writers College appointed her as a tutor. I would recommend this course and especially the SA Writers' College to any person who would like to start a writing career." PE Mostert, Pretoria, Skryf 'n roman kursus, SA Writers College
"Words on paper can tell you a story, but the emotional gain from completing something so satisfactory that you want more, is a whole new exciting ball game on its own. The course was motivating and inspirational at all times. I look forward to working with my tutor again on the Advanced Novel Writing course. I found her knowledge and input very satisfying, she helped me a lot and she has excellent experience in the field. I've gained a lot through the experience which involves bettering my skill in emotional intelligence. It is an excellent course and I would refer it to anybody who wishes to learn how to write a novel. Thank you so much".  Alta Steyn, Skryf 'n roman kursus, SA Writers College
"Without Wilna's continued support and belief in my story and my characters, I probably would've given up on it. I would've missed finally making that real connection with my characters. And I wouldn't have a debut novel, Donker Spoor, on shelves in book stores as I type this. So I want to thank the South African Writers College for offering these writing courses and attracting people like Wilna Adriaanse. I enjoyed the well-structured course material, and appreciated that it also dealt with publishing aspects like blurbs and submission letters. But it is the one-on-one tutorship that really makes your courses special. Thank you for helping me realise my life-long dream." Martin Steyn, Skryf 'n roman kursus, SA Writers College
"Die SA Writers College doen wat hulle op hule webblad beloof om te doen – iets wat mens nie deesdae baie gereeld kry nie. Ek voel dus asof ek waarde vir my geld ontvang het. En al doen ek niks met dit wat ek geleer het nie, was die ervaring die moeite werd." Karin van Zijl, Skryf 'n roman kursus, SA Writers College
"'n Wonderlike ervaring. Ek was baie beindruk met die aanbieding van die roman kursus – die volledigheid van die modules asook die terugvoer van die studieleier. 'n Baie aangename ervaring en 'n voorreg om soveel leiding van een van ons voorste Afrikaanse skrywers te ontvang." Lizelle  Burger, Vredendal, Skryf 'n roman kursus, SA Writers College
"It was a great experience; great value for money and a useful tool to learn exactly what is needed to write a novel. I would have liked the course notes in Afrikaans but other than that it was a great learning curve for me; everything was very well presented. I received very good service from SA Writers' College and my tutor Wilna was absolutely fantastic! I learnt a lot from her; her feedback was always clear, to the point and very valuable; she is a great motivator. I've gained a lot of knowledge and the will to see my novel through and complete it. The feedback and overall critique from my tutor has grown my confidence and made me realise with hard work and dedication I might actually do this! Thanks to all of you." Corne Scheepers, Skryf 'n Roman Kursus, SA Writers College
"I was honoured to have Wilna as a tutor. She was professional and easily approachable." Tanya van der Westhuizen, Skryf 'n Roman Kursus, SA Writers College
"I would definitely come back again and tell others about it. SAWC has seen a huge opportunity and I am proud to say I am one of their students. I also appreciate it that the standard was so high." Karelien Stolper, Pretoria, Skryf 'n Roman Kursus, SA Writers College
"A highly professional distance learning institute, with top class curriculum made up of theoretical modules and professional tutorship by experienced writers." Riaan Marshall, Skryf 'n Roman Kursus, SA Writers College
"I enjoyed doing this course. I would recommend this to anyone interested. All notes and modules were easy to read and understand. The explanations and examples given made it easier to write. My tutor was very professional and supportive. I enjoyed her feedback and her mentoring was of the best quality." Natasha Basson, Skryf 'n Roman Kursus, SA Writers College
SA Writers' College bied sedert 2005 skrykursusse aan in Gauteng (Germiston, Johannesburg, Pretoria en Vereeniging); Noord-Kaap (Kimberley, Upington en Fraserburg); Wes-Kaap (George, Kaapstad, Knysna en Mosselbaai); Oos-Kaap (Alice, Aliwal-Noord, Bhisho, Graaff-Reinet, Grahamstad, King William's Town, Mthatha, Oos-Londen, Port Elizabeth); KwaZulu-Natal (Durban, Pietermaritzburg, Richardsbaai en Ulundi); Limpopo (Phalaborwa en Polokwane); Noordwes (Klerksdorp, Mafikeng, Mmabatho, Potchefstroom en Rustenburg); Mpumalanga (Nelspruit en Witbank); Vrystaat (Bloemfontein, Kroonstad, Sasolburg en Welkom)
Photo: Flickr.com_Sharon Drummond