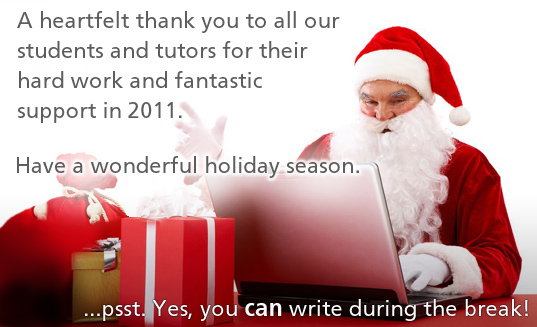 It's been a fabulous year at The Writers' College.
With almost 500 students, 294 high-achieving graduates and more than 30 articles and stories published by our students and recent graduates, 2011 was a year marked by successes. We believe that the consistent hard work of our tutors, and our students, and the continual changes we make to improve our courses and websites, have paid off.
THANK YOU
A huge thank you to all the companies and individuals who have supported us this year. We so appreciate your interest and positive energy that you have brought to our writing college.
As always, a heartfelt thank you to our superb writing tutors. Your feedback is as glowing as ever. You are wonderful.
Thank you to Koos Turenhout – our administrator – for answering hundreds and hundreds of queries, and looking after all our students so well. Whitney Geary did an excellent job of organizing certificates for our graduates, and Natasja Atherton got our forum up and running. Karen Lotter, our web guru, has done a great job with our social media and our blog. A huge thank you to Samantha Moolman for taking up the role of newsletter editor. You do a superb job. Zeald – the company responsible for creating and maintaining our websites – has ensured we had a zero-hassle year on the technical front. Thank you for your input.
NEW COURSES FOR 2012
For 2012, we are opening three exciting new courses: Scriptwriting for Video Games and Digital Media, as well as a Personal Coaching Course based on the work of Julia Cameron, author of The Artist's Way and The Artists's Way at Work. We are also working on an Editing and Proof-reading Course. See more on these in the College News Section.
CLOSING TIMES
We are closed from 18 December, and reopen the college on Wednesday 6 January 2012. Have a wonderful, restful festive season. Gather your courage for some break-through writing feats in 2012; we'll see you on the other side.
Happy Writing!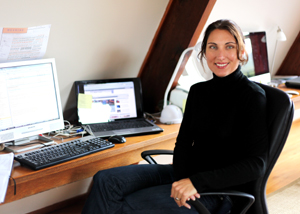 Nichola (Principal of The Writers' College)
CONTACT US:
Principal: NICHOLA MEYER E-mail Nichola
Student queries and applications: KOOS TURENHOUT E-mail Koos