Is jou skryfstuk uiteindelik kant en klaar en jy gereed om dit aan 'n uitgewer te stuur? Jippie! Maar voordat jy daardie 'stuur' knoppie druk, maak eers seker dat jy dit volgens hierdie belangrike stappe geredigeer het:

STAP 1: Doen jy die moeite sodat jou leser nie hoef nie
Laat jou kreatiewe sappe vloei en skryf die eerste weergawe sonder om jou teveel te bekommer oor grammatika, spelling of vorm. Om jou analitiese linkerbrein te vroeg aan te skakel wurg al die lewe uit jou skryfstuk uit. Fynkam jou werk eers agterna.
STAP 2: Lees jou stuk direk nadat jy klaar is daarmee en let op na enige opmerklike veranderinge wat jy wil aanbring.
STAP 3: Vat 'n blaaskans.
Dit is 'n goeie idee om aan 'n paar skryfstukke gelyktydig te werk. Op hierdie manier kan jy 'n paar dae/weke blaaskans vat en dan op 'n later stadium weer met 'n vars oog daarna kyk om die nodige veranderinge makliker te identifiseer.
STAP 4: Gebruik jou redigeringskontrolelys: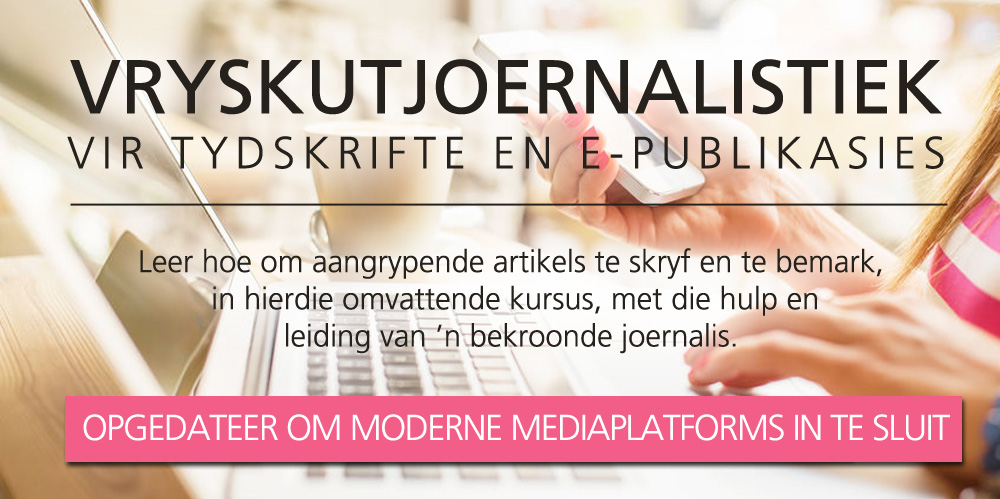 Jou Druk-Uit-En-Hou-20-Punt-Kontrolelys
1. Lewer jou skryfstuk dít wat jy in die prikkel belowe het?
2. Is jou invalshoek duidelik? Is dit vars?

3. Is daar logiese vloei van die een punt van die teks, na die ander?

4. Is die oorgangspunte vloeiend?

5. Het jy al die nodige inligting verskaf?

6. Bevat elke mening die nodige feite daar agter?

7. Het jy die storie gewys met jou woorde, eerder as om dit te vertel?

8. Het jou skryfstuk 'n sterk gevolgtrekking?

9. Het jy in aktiewe tydvorm geskryf?

10. Het jy elke sin rodom 'n visuele, aktiewe werkwoord gebou?

11. Het jy elke werkword rondom 'n konkrete selfstandige naamwoord gebou?

12. Het jy eerder 'n eenvoudige woord in plaas van 'n onnodig lang een gebruik?

13. Is jou sinne kort en kragtig?

14. Het jy al die onnodige woorde, veral byvoeglike naamwoorde, uitgelaat en by die woordtelling gehou?

15. Is jou tydvorme korrek?

16. Is jou gesigpunt konstant van die begin tot die einde? (byvoorbeeld eerste persoon- of derde persoon verteller regdeur…)

17. Begin die meeste van jou sinne met 'n onderwerp en 'n werkwoord, gevolg deur ondergeskikte informasie op regterkant?

18. Het jy sinne met woorde soos "Daar was…" en "Dit is…" vermy?

19. Het jy die gebruik van bywoorde minimaal gehou? (baie, eerder, 'n bietjie, heeltemal, regtig, mooitjies, ensovoorts.)

20. Het jy die gebruik van voegwoorde gevarieer?