Don Pinnock tutors the Travel Writing Course at SA Writers' College. Former editor of Getaway Magazine, Don is also the author of 13 books and has written countless travel articles for magazines and newspapers.
In 2013 Don won the City Press Non-Fiction Award for his writing on street gangs and was awarded an Honorary Research Fellowship in the Law Faculty at the University of Cape Town.
Q.      How did you get into writing – and travel writing?
A: I was an engineer but found it boring. I wanted to be a journalist but couldn't spell,  so I had to abandon my mis-chosen career and became a cub reporter for a radio station.
For the first few months, I mostly made coffee for the news editor and he threw me scraps of stories to chew on. Out of pure fright I learned to spell and then write.
Radio is a great starting place for writing – you have to be concise and remain interesting. You have to use simple words or the listener turns off the radio. Paul Gallico taught me to get big ideas across simply.
I got into travel writing because a travel magazine offered me the job of wordsmith, fixing their writing. I was a legal consultant to government at the time (don't ask) so just went: 'Whoopee, yes!' But pretty soon the lure of the wide world got me begging trips and learning to take photos. They liked my writing but tore my photography to pieces. So I started that from scratch too. Now I have two photo exhibitions running and five travel books on the shelves. And became the editor of the magazine.
Q: What was the most unexpectedly wonderful place you have visited?
A: Antarctica. Blew my mind. It's the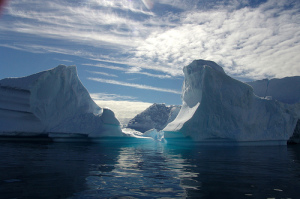 most awesome, wild, dangerous, beautiful place on earth. I did a three-month writer-in-residence at the SA base in Queen Maud Land. Result was Blue Ice: Travels in Antarctica and a lifelong fascination with the White Continent.
Q: Do you eat the local food on your expeditions? If so, what was the most unpalatable food you have had to endure?
A: It depends on what's "local" these days. Is pizza local in the Congo? Sort of. I'll try most things (even mopane worms) but for much of my travels I'm vegetarian. It is possible. I once asked for a vegetarion meal in Zimbabwe and they brought me chicken. I said this is meat. The waiter replied, knowingly: 'No it isn't, it's chicken.'
I don't eat offal or chicken legs or goat cheeks or drink water out the tap in most places. Actually I prefer not to eat sentient creatures.
Q: What do you see as your biggest writing achievement?
A: Learning to write. It's taken me places I could never have imagined, led me to extraordinary people and got me married a novelist and poet. It's been my taxi into the streets of life.
Q: How difficult would you say it is to make a living as a travel writer?
A: It's not easy – you have to be pushy, write well, take good photographs. But it's possible – and fun.
Q: What advice would you have for aspirant travel writers?
A: Write, dammit. All the time. Play with ideas. Fiddle with phrases. And read. A writer who doesn't read is an oxymoron.
Q: Would you recommend they do your course, and why?
A: School and university don't teach you how to write for the wider public. You have to find out and it's not easy on your own. The course gives you what you need to get going.
Q: What stand-out qualities do you look for in travel writing that you assess?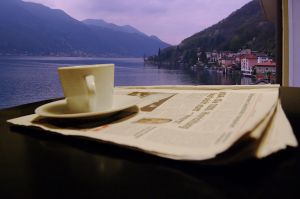 A: Given that we are word apes and spend so much time yakking and sharing words, it's a puzzle to me that so many people can't actually write well. They're either afraid of consigning phrases to screen or paper if there's a wider audience, or don't have the words, or don't read enough to harvest them, or they're just badly educated. But it's such a wonderful skill to have…
In all writing, I look for the ideas that the words convey – actually we all do. But so many writers get tangled in the words and forget that they're in the business of conveying ideas.
The word is the child of the sentence in the family of the paragraph in the community of the article. It all needs to hang together and then to communicate what I call the meme. Is there a larger idea behind the writing? What is the inner logic around which the whole is constructed? Bussing facts is not writing in the way that ingredients is not a cake.
In travel writing I look for that golden thread and these days, sadly, so seldom find it.
More new travel writers should read Edward Abbey, Robert Byron, Barry Lopez, Bruce Chatwin, Redmond O'Hanlon, Tim Cahill, Annie Proulx and Henry Morton Stanley (no, I don't much like Paul Thoreau). Everybody wanting to be a travel writer should pore over O'Hanlon's Trawler – compulsory in the way that Byron's Road to Oxiana used to be (read it too). They all make you sit up and go: 'Hell yes'.
Fast Facts about Don
His books include The Brotherhoods: Street Gangs and State Control, Gangs, Rituals and Rites of Passage, Natural Selections, African Journeys, Loveletters to Africa, Writing Left (a biography of Ruth First) and Blue Ice: Travels in Antarctica and The Woman who Lived in a Tree and Other Perfect Strangers.
His first novel, Rainmaker, was a finalist for the 2009 European Union Literary Award.

Don has a PhD in political science, an MA in criminology, a BA in African history and has published a post-doctoral study on gangs, rituals and rites of passage.

He has held lectureships in Journalism (Rhodes University) and Criminology (University of Cape Town) and completed his PhD research at London University.
What past-students say about studying with Don Pinnock on the Travel Writing Course at SA Writers' College:
"I found the course to be really insightful but also challenging. I enjoyed it a lot and am really glad I did it. It gave me an objective insight into my writing abilities and what works and what doesn't work. Having a professional, knowledgeable and well travelled writer as a mentor was a privilege. Don always answered all my questions in a prompt manner and was really helpful with whatever I inquired about. He had great critical feedback which was much appreciated. I have learned a lot about travel writing and being a freelancer the industry; I would definitely recommend the course to anyone. The experience is definitely well worth it!" Alesha Otto, Travel Writing Course
"I give this course a rating of 10/10. It is very informative and educational. It gave me the tools, guidance and the confidence I needed to enter the travel writer's world. I will definitely be studying further courses through the Writers' College. Don Pinnock is of course a legend in my eyes and it is a true honour to have been taught by him. He gives the motivation through the need for endless improvement – the mindset that one will never "arrive" and must never stagnate but always inspire to become a master of one's own creativity and style. Keep up the great work. Thank you." Lemanja Davidson, Travel Writing
"The course was excellent, practical, well structured and I had a great tutor who provided excellent tips and feedback. The course met all my objectives and in some instances even exceeded expectations. I would describe the course as excellent value for money and well worth your while." Johan Swanepoel, Travel Writing
"I thoroughly enjoyed doing this course. My tutor Don was fantastic and I learnt a lot from him. It was a pleasure working with the team at the Writers' College;  they were helpful and considerate." Grant Christie, Travel Writing
"This course was a lot of fun and was most comprehensive; I highly recommend it! It provided all the necessary tools for becoming a published travel writer, such as the dos and don'ts for submitting articles to editors, as well as various writing tips and pitfalls which prevent wasting time on unnecessary mistakes. Don was a fantastic and patient mentor! I was very nervous submitting my work to such a well regarded and exceptional writer, but Don encouraged me and kept me going throughout the more complicated sections of the course. I appreciated his honesty and direct approach, but found that he never minded if I queried something or asked for clarity – he shares his experience and knowledge gladly. I have a better understanding of travel writing now, and I am better equipped to set about getting my work published. This is a professional, high quality College that offers slick courses of international standard. The fact that you're mentored by a professional in the field is an added bonus." Wendy McSeveney, Travel Writing
"The course notes were thorough, informative and relevant. Feedback was prompt and helpful, and Don was encouraging. I would describe the course as challenging in the best and most useful kind of way!" Helen Wallace, Travel Writing Course
"Absolutely wonderful course, I got far more from the course than I expected. What a privilege to learn from someone like Don Pinnock, who I regard as one of the best writers in the industry. His positive feedback and constructive criticism will always stay with me. He is one of those people who knows just how to get the best out of his students. A wonderful experience. I cannot wait to enrol for another course!" Hannelie van As, Travel Writing Course
"I loved the course. I found it extremely helpful in terms of guidance and tips with regards to the industry. The logical flow of the course modules in terms of putting an article together really mapped out the necessary process for me and the modules themselves were structured really well. I loved the additional articles and example excerpts and found they really clarified the modules for me. Don was very prompt with responses and feedback – so much so that he gave me no time to have a drink between submissions and receiving the next module! He helped me greatly in terms of weaknesses in my writing and has given me the tools to write with a lot more confidence." Leandre Jacobs, Travel Writing Course
"The course is well worked-out and deadlines are within attainable time frames. The lecturer set a high standard for the work, but also offered sufficient advice when it was necessary. The Writers' College has given me the opportunity to broaden my knowledge and experience, without the inconvenience of attending classes or wasting time on subjects that were unnecessary." Karen Joubert, Travel Writing Course
"First of all Don Pinnock was fantastic. There were moments when I was ready to throw in the towel, but his honest critiques and gentle encouragement kept me going. He is a marvellous man! It was no walk in the park; very challenging and enlightening. Would love to do it all over again." Janine Grobler, Travel Writing Course
"I really enjoyed the course. It was fun, challenging and critical. Usually online courses aren't very personal and lack quality feedback, but this was not the case with the Writer's College. I received expert advice and guidelines. It was a quick and effective way to learn everything I needed to in order to realise my dream and become more confident. I'd recommend it to anyone and would do a different course in the future, too. I knew every second that I was in good hands and working under someone extremely talented and experienced. I also appreciated the bluntness and humour of my tutor. I know that he is a very busy man and I often thought that he might get a bit annoyed at my naivety, but he always got back to me immediately, after every assignment, with thorough advice. In only five months, you've helped me realise my dream and made it attainable." Roelien Steenkamp, Travel Writing Course
"It has been a fabulous experience working with Don. I appreciate the time he took, the comments, criticisms and most of all, the encouragement. This is a course focused on giving the basic, industry related information, without wasting time on irrelevant information." Bianca Preusker, Travel Writing Course
"The response time [of my tutor] was incredibly quick in general. Also appreciated the specifics of advice. E.g. contacts in the industry. Overall I am very glad I took this course, and thankful to have had Don as my tutor. It's an efficient, enjoyable and simple way to learn the basics of good writing." Georgie Chennells, The Travel Writing Course
Photo credit: Flickr.com_HRC