Only the Dead is South African born Hamilton Wende's latest novel, released by Penguin Books in October 2012. What inspires this author and how did he tackle the task of hunting down a publisher? By Leoni Cohen-Velida
Q: Your experience is extensive in freelance journalism and TV production. What sparked your passion for writing?
A: English was my favourite subject at school but I started doing Building Science at Wits University.  It was only when I was about twenty did I realize I wanted to write, so I switched to a BA studying English, Drama & Film and Legal Theory.
 Q: Many aspiring writers don't have a tertiary education behind them. Do you feel it's needed to write successful novels or that having a passion is enough?
A: I certainly don't think you need to have a degree in English to become a writer. That was my background and to some extent it slowed me down in the beginning, always having the young James Joyce metaphorically peering over my shoulder. You can come from any background and write successfully. What you do need though is to master the skills of writing – gone are the days when editors would laboriously go over your badly written manuscript looking for hidden gems.
You can come from any background and write successfully.
Q: What are your feelings about self publication?
A: Self-publishing is increasingly an option, but if you do go that route make sure your manuscript and the final product is perfect – otherwise it looks shoddy and you will damage your reputation.
Q: You mentioned that Only the Dead has been your greatest achievement as an author. Why is that?
A: In the writing of Only the Dead there were many moments of self-doubt, wondering whether I could pull it off again. Finally I wrote the last words on the morning of New Years Day this year – needless to say I was in bed by 9 o'clock on New Year's Eve.
Q: Despite your journalism background, after completing your first novel, did you struggle to find a publishing house to take you on?
A: My very first book ever published was a young adult's novel co-written with a friend in New York, Windell Williams. It was rejected by twelve publishers until, finally, the biggest one of them all, Maskew Miller Longman took it and it's still in print today. It was a real lesson in how much both faith and fate are intertwined in the process of finding a publisher. Not everyone is going to like your book, or, if they do, many will feel that it is not economically worth publishing. You simply have to believe in your vision and work until you find someone else who shares it and believes in it too.
Q: Where does your inspiration come from for your novels?
A: Ideas come slowly and of themselves. I am constantly thinking and rethinking my characters, plots etc.
Q:  What advice can you give to aspiring writers?
A: Keep writing, keep reading and learn everything you can about your craft, from using apostrophes correctly to writing dialogue to describing a sunset differently from anyone else.
Q: What is the most important writing tip you have ever received and still use today?
A: Write about what interests you, about what you want to read.
Hamilton Wende Novels
Only The Dead – A thriller and love story set in the forests of central Africa. A hunt for the mysterious evil General Fausting and a race against time; the threat of a nuclear terrorist attack to save his child soldiers from the cult of the lion he has enslaved their minds with.
The House of War – A love story and thriller about searching for the lost diaries of Alexander the Great in the badlands of Afghanistan while being hunted by Al Qaeda. Published by Penguin, South Africa
The King's Shilling – A novel about WWI in East Africa published by Jacana in 2005. It has been on the bestseller list in Johanesburg, Cape Town  and Durban and was long-listed for the Sunday Times Fiction Award in 2006
Deadlines From the Edge: Images of War from Congo to Afghanistan – Stories about Hamilton's journeys into different parts of the world while working as television news producer in different parts of Africa, the Middle East and Afghanistan. I was published by Penguin in 2003.
True North; African Roads Less Travelled – A non-fiction account of Hamilton's work as a journalist in Africa. It was published in 1995 by Williams Waterman in Johanesburg. It was nominated for the 1995 Sunday Time Alan Paton Award.
A children's picture book Hamilton wrote, The Quagga's Secret, published by Gecko Books in Durban was selected as one of the 1995 South African Books of the Year by Jay Heale of Bookchat. In 1999 it as selected by Cambridge University Press in South Africa for an anthology of South African writing.
Hamilton is also the co-author of a young adult novel, Msimangu's Words, which was published by Maskew Miller Longman and was a finalist in the Young Africa Award 1992.
About the Author: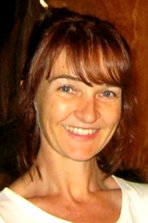 With many years of travel behind her, Leoni Cohen-Velida has written several travel articles for Minnt, an Australian life-style magazine, where she was born and raised. Falling in love with South Africa in 1997, she spent years in the filming industry in Cape Town before discovering home in the African bushveld.
Her time is devoted to the game reserve in which she resides. When not warding off potential threats to the wildlife, she can be found writing her first fiction novel.