I started to write years ago, when I had small children. We'd moved to a fishing village on the West Coast of South Africa – a bleak, sandy place, where the people were poor, and the environment harsh. I'd always wanted to write, but because I hadn't studied English at University, I thought I couldn't.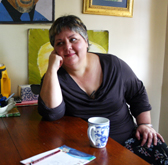 But stuck in the back of beyond with no friends and no job, I had to do something. I began to write a novel based on my Great Grandmother's experience immigrating to South Africa in 1890, so her husband could make his fortune on the newly discovered diamond fields.
I did loads of research into the history of Kimberley. I knew how they sieved the river sand for diamonds, and about the terrible flea problem that was so bad that in church everyone sat with their feet on the pew in front. I wrote 25 000 words. But when I read back over the story, I could see it was never going to be published. I just didn't know how to get the scenes that were in my head to look the same on paper.
This was 1993. The internet hadn't happened yet. I didn't have any money to buy books on writing. I was on my own.
I began to analyse writers I enjoyed. I looked at how they created characters, how they used dialogue and action tags to break the rhythm of their dialogues. I wrote apprentice pieces, copying passages that I admired, but changing details, so that I could understand the writing styles that characterised different writers. It took me two years of hard work before I was brave enough to try a book of my own again.
This time I tried a book for children – 20 000 words seemed a lot more manageable than 100 000 for an adult novel.
I was very lucky. My first book was published in 1996. Since then I've published over 50, almost all for children and young adults.
I wish I'd had someone to teach me to write when I started. It was hard to keep going without a mentor.
This is one of the reasons I started teaching at The Writers' College. I wanted to take the skills I'd learned and make them accessible to new writers.
I've taught hundreds of students, most of them in the Basics of Creative Writing Course. I never get bored with it. Every student brings something fresh to the course, and I'm very lucky to have such an endlessly interesting job.
About the author:
Helen Brain is the author of over 50 books for children, and has contributed stories and plays to numerous school anthologies. Her teen novel, Tamara won an ATKV award. She has also published short stories for adults, and her highly acclaimed memoir, Here Be Lions was published by Oshun in 2006.
Helen is the tutor for the enormously popular Basics of Creative Writing Course as well as the Write a Children's Book Course and the Creative Writing for High School Students Course at NZ Writers' College, UK Writers' College and SA Writers' College.
Feedback from past students about Helen Brain's online creative writing courses:
"The Basics of Creative Writing Course offers everything. It's been an incredible journey for me. I love writing, and learning to understand specific skills has been truly wonderful. Helen is exceptional. She answered my questions when I struggled with certain areas of the course and gave me confidence and the will to keep writing. She is a very motivational tutor. My experience at The Writers' College has taught me a side of writing to remember for the future. Thank you for everything." Carol Hook, Basics of Creative Writing Course
"Overall, I would describe the course as enlightening. Having previously done the Basics of Creative Writing Course with Helen Brain as a tutor, I can safely say that she is excellent at what she does." Pravina Hiralal, Advanced Creative Writing Course
"I have learned so much on this course, not just about the tools of writing but about what kind of writer I am and where I want to go with my words. Helen's guidance on this course, and on the Basics course, has been invaluable in my journey to becoming a writer. I'm going to miss the structure and the hand-holding she afforded. The UK Writers College and the two courses I have attended have given me the confidence to run with my writing. Thank you so much."  Michelle Peart, Advanced Creative Writing
"I wanted to learn about the basic ingredients of good creative writing, and I did. I enjoyed the exercises and found Helen's  feedback incredibly valuable. I'm glad I did the course; it was a good starting point and I feel more confident about the quality of my writing." Frieda-Marié De Jager, Basics of Creative Writing Course
"It was an absolute pleasure taking this course. It was very professionally presented and the staff are friendly, helpful and supportive.  My tutor Helen was absolutely amazing. Her insight and suggestions were both helpful and much appreciated. I would definitely recommend The Writers' College to anyone who wants to hone their writing skills." Jana Fourie, Basics of Creative Writing Course
"The course was very informative and enjoyable. I have seen a marked improvement in my Creative Writing skills. The Writers' College offers such a variety of informative and wonderful courses, I'd love to do several." Robyn Wilkin, Basics of Creative Writing
"Overall, it was an excellent and very enjoyable course. Helen was a thoughtful, knowledgeable and supportive tutor; she is very likeable and kind human being." Brett Shand, Basics of Creative Writing
"The course was a very good introduction to creative writing. It has motivated me to take the Advanced Creative Writing Course. Helen had some spot-on critiques and my writing improved after I followed her suggestions. The many exercises got me writing, instead of just looking at a blank page; I also feel more skilled than I did a few months ago. Overall, I had fun, improved my writing and I look forward to signing up for another course, so I'll just let those facts speak for themselves." Joshua Smith, Basics of Creative Writing
"The course was a great introduction to the world of writing. Helen was great! She was patient, understanding and helpful. It met all my objectives; I feel motivated and inspired." Willem Vorster, Basics of Creative Writing
"I would describe the course as perfect. I loved every minute of it. Helen was very helpful and caring. The whole experience was fantastic. I would highly recommend it to anyone who enjoys to write and wants to further their knowledge on creative writing." Jessica White, Basics of Creative Writing
"My experience with the course was, in a word, great. The notes were excellent, I found my tutor's comments very helpful. Helen responded to additional queries I had and was able to pick out some good improvement points for me to work on. I definitely feel that I have learnt a lot about the basics of creative writing; it was good starting point for me." Kevin Blignaut, Basics of Creative Writing
"My experience with the course was invaluable. I learnt so much. The course content and assignments have made me a much stronger writer. My tutor Helen was amazing, incredibly inspiring and insightful. She gave me a different perspective on writing and my final manuscript wouldn't have been half as strong if it wasn't for her; I owe her a lot. The Writers' College is professional, credible and well worthwhile. The course absolutely met all of my objectives and more! It has made me a much more critical, thorough and refined writer and it has motivated me to reach my writing goals." Lauri Thorburn, Write a Childrens' Book
"The course has given me more confidence in my writing and in my ability to understand children's literature in depth. The Writers' College has allowed me to see the potential I have in writing. I have gained so much insight. I am now determined to complete my manuscript." Surani Ramachandra, Write a Childrens' Book
"Overall, I would describe the course as fantastic. The most useful part was the feedback I received from Helen. I knew most of the content but the application of it to my own children's book was what I needed help with. Helen was so helpful; I feel like she became a friend and mentor on the journey." Lyn McNamee, Writing Books For Children
"I am so excited to reach the end of my novel – something I never thought would happen. I now have a polished story that I am happy with. Even if it never brings me in a cent, it proves I can do it, I can finish a book. The prospect of starting the next one doesn't feel so onerous now. The course was well worth the money; it was wonderful to have someone looking over my shoulder while I wrote, to gently shift me in the right direction with the lightest touch and keep me focused on the story. Helen gave perfect advice – everything she said was pitched to push me further, make me think and drive me to write better. I have her voice in my head while I'm writing now and it's helping to make my stories come alive – deep and grateful thanks. The Writers' College has a professional, personal approach that will extend any writer at any stage of their career." Irene Hamer, Write a Children's Book.
"Writing a book seemed overwhelming but with the proper material and guidance from a tutor, the process was a lot less stressful than I anticipated. It was highly enjoyable and I have learnt valuable skills. Helen became more of a mentor and she went out of her way to help me. She was very encouraging and patient, she gave me the opportunity to explore my creative side. I looked forward to receiving each new module. I feel more confident in my writing skills thanks to Helen's guidance. The course exceeded my expectations, it was a fantastic experience. I recommend SA Writers' College to budding writers." Samantha Carroll, Write a Children's Book
"The course material was well designed, being challenging and yet interesting. It was a full satisfying course. Helen is very incisive in her evaluations, and assessments. She knew exactly when to put on the pressure or when to compliment. She turned my manuscript into a seamless story, honed and ready to print. It's a shame she won't be looking over my shoulder for the next one. An excellent, professional course that I would promote." Fred Robertson, Write a Children's Book Course
"It is brilliant that at the end of the course you have a completed manuscript. Helen Brain is excellent; she is an expert in her subject matter and gives constructive feedback. It was an absolute pleasure working with her." Renata Dry, Write a Children's Book
"I found the course very relevant. It made the daunting task of completing a manuscript very approachable, moving in logical, achievable steps from beginning to middle and end. I found Helen's feedback to be extremely relevant and useful. Though she didn't tell me what to write, she steered me on the right path, always making sure I remembered who my audience was and that I had all the correct elements to keep a child reading, from a workable plot to good dialogue, valuable description and setting, and language at the correct level." Hayley Leibowitz, Write a Children's Book
"I thoroughly enjoyed doing the course with Helen Brain. She is an extremely good teacher and mentor. It was fun and I still intend to do the other courses you offer in Scriptwriting and Adult novel writing – but I need to save for them first." Fern Yates, Write a Children's Book Course
 "It was a very useful and enlightening course that taught me that there is more to creative writing than knowing the language fairly well. Helen was very helpful, her feedback clarified which areas of my writing I need to work on. The course met all my objectives; I now feel the need to take writing very seriously as well as continue to learn as much as I can in order to be a good writer. The course has helped me gain knowledge and the confidence to get myself started." Kayise Maphalala, Basics of Creative Writing
"I enjoyed doing the course. Helen is a really good lecturer. I really enjoyed learning from her. Overall, I learnt a lot and had fun while doing so." Elaine Borman, Basics of Creative Writing
"I've caught the writing bug. As far as I know there is no cure – only writing courses to help treat the symptoms. The Basics of Creative Writing Course has provided some relief for now. I'll be sure to enrol in another course with the Writers' College if my symptoms flare up again. Helen was a wonderful tutor to have. I've come to realise that writing is tough but so rewarding if you stick to it. Helen's guidance and encouragement kept me motivated and helped me to press on. Doing the course was a wonderful way to get guidance and advice from those who've been in the very same beginner shoes I find myself wearing now." Wanda van der Wath, The Basics of Creative Writing Course
"It was a fun and enlightening experience. Helen Brain was most encouraging; her critique was always valid and helpful. The course met my objectives; in retrospect I could have possibly tried a little harder but I have renewed confidence in my writing and I learnt some very useful storytelling techniques. Overall, I was very pleased with the course. I would definitely recommend The Writers' College to anyone looking to enhance their writing skills." Katherine Otty, Basics of Creative Writing Course
"I had a lot of fun with the course; I set out to learn how to write and I did. The notes were informative and gave practical examples for all the topics. Helen has so much knowledge, it would be difficult not to learn anything from her. Her feedback was always insightful and it made me look at my work in a different way. The Writers' College gives anyone the opportunity to start learning. I really believe that anyone would benefit from doing one of their many courses. I'm grateful for all the knowledge I have gained." Werner Diedericks, Basics of Creative Writing Course
"This course was exactly what I was looking for; it really improved my knowledge of the key components of creative writing. The course notes were fantastic – clear, concise and easy to follow. Helen was fantastic to work with; responsive, friendly and her comments showed me that she had really taken the time to read what I had written and knew her stuff! I would love to have her as a tutor again. The course met all my objectives; it was absolutely great.  Thanks for your flexibility – the Writers' College, and for working in with my many other commitments and deadlines. I really appreciated this – it made a huge difference to my experience of the course." Claire Barry, Basics of Creative Writing Course
"I was impressed with the volume and depth of the exercises. Some of them were very demanding but they opened my eyes to just how stories are crafted. I've learnt valuable tools to edit my texts and cut them back to what is required to push stories forward without getting lost in long descriptions. Now I feel more confident about the writing process – thank you. With English being my second language, I doubted whether I would be able to write in a way that was acceptable to a native speaker but Helen gave me the feeling I could write just as well. She answered all my questions directly and promptly and encouraged me to keep on practising. Thanks to her constructive criticism I understand more about how to build a story and keep the reader's interest. What's more, I've learned a great deal about the English language just by writing and rewriting. The course helped me to be a more confident and inspiring writer." Guenter Prinesdom, Basics of Creative Writing Course
"I loved the experience; I truly feel I learnt so many new and practical writing skills from doing the course. Helen Brain  was extremely supportive and constructive with her feedback. I am very happy with my experience with The Writers' College. I'm currently doing the Advanced Creative Writing Course with Helen – which I guess says it all." Deborah Forbes, Basics of Creative Writing Course
"The course was extremely helpful. Helen Brain is a good teacher; she was positive and supportive and she gave a lot of good advice. Overall, it was a very positive experience and it has encouraged me to do more writing." Joan Rotherham, Basics of Creative Writing Course
"I wasn't exactly sure what to expect but I thoroughly enjoyed the course. The course was specific to my objective which was to improve my fiction writing. It was good to visit the basics of writing again and give concepts some formality and structure. It also expanded my knowledge of ways to gather material. I was particularly glad to use some of my existing fiction in some of the exercises which gave me "double" feedback; it also made the course and Helen's comments more relevant. Helen was a very gentle and encouraging tutor which was great when you are exposing yourself to criticism and critique for the first time. She was most gracious as I bombarded her with assignments with no break in between! The course showed me I had a good grasp of what is expected of a writer and I feel more confident in going forward. The writing community was so different to my usual communities but I felt welcome and was very appreciative of the encouragement I received from administrators and course tutors." Fiona Coward, Basics of Creative Writing
"I found the course interesting; I have developed skills in creative writing which I appreciate. My tutor Helen was quick to respond and accommodating (particularly with my time management towards the end of the course). I appreciated her helpful feedback and encouragement along the way. I am pleased to say I gained confidence in my writing from her feedback. Overall, I felt the College and its courses were very accessible and I received good quality training." Sue Mitchell, Basics of Creative Writing
"The course was stimulating and motivating. Although correspondence was brief, I built a respect for Helen based on the good outcomes of her advice. It felt good being under her tutelage. The course met my objectives; I am somewhat more confident of my abilities. It helped me see my work more critically; learning how to spot the dross has been very important." Bill McAndie, Basics of Creative Writing
"The teaching was great, I just need to motivate myself more to write every day and consult online documentation. Helen was more than willing to mark my work speedily as I pushed the boundary of my deadline. I really appreciated that. Online communication is an excellent method for teaching writing, but like I said, I need to motivate myself to 'do it every day', which no course or institution can do for you. I look forward to more courses and more good experiences." Manuela Tyne, Basics of Creative Writing Course.
"It was a valuable course that delivered what it promised. It taught me the Basics of Creative Writing in a very simple, yet effective way. Helen is extremely wise, patient and a helpful tutor. She inspires would-be writers by providing feedback which is both honest and encouraging. I've never signed up for any sort of writing course before (nor have I done a lot of writing) but after being guided by such a brilliant teacher I feel compelled to continue writing. The  Writers' College offers quality one-on-one tutoring to students with talented, wise and accomplished writers willing to share their valuable knowledge with you." Suzanne Kolaczynski, Basics of Creative Writing Course
"The course can be described as enriching, challenging, inspiring, life changing and addictive. Helen was a wonderful tutor, inspiring, encouraging and helpful. She pushed and challenged me, she didn't allow me to rest on my laurels. She gave me confidence to try new things, take risks and grow. The course really helped develop my writing skills; I thought I was a good writer before, but now I realise I have much to learn. Taking the course has started me in the right direction, thank you." Andie Tane, Basics of Creative Writing Course.
"What a learning experience! I loved doing this course and learnt such a lot. Helen was an excellent tutor and gave me incredible advice. I will be doing the advanced course later in the year." Janine du Preez, Basics of Creative Writing
Helen was extremely helpful and very clear with instructions and criticism. She also didn't make any genre restrictions and encouraged me to simply speak with my own voice. The course met my objectives perhaps even more than I had in mind! The course is something which anyone can benefit from and which will open up new doors to them. Gratia-Mari Joubert, Basics of Creative Writing
"I loved it! It was everything I was looking for in a course. It was well designed to step a person through the basics and grow in their ability. Helen is superb! She gave excellent feedback and is upfront about your shortfalls, which is necessary for growth. I found the Writers' College highly professional and it met all my expectations in a writing course. I have already signed up for another course." Catherine Myers, Basics of Creative Writing Course
The course was informative and I feel I've learnt a lot. I found the course comfortable. It was easy enough to do without feeling the need to give up, yet challenging enough not to be boring. The experience with my lecturer was fantastic, I hope in future I can work with a lecturer equally as great and helpful. I was happy with the level of criticism, it was constructive and encouraging. The course has taught me a lot about creative writing. Overall, I found the experience at SA Writers' College enjoyable. The College seems very well organised and I would recommend it to anyone interested in learning about writing. Monica Terlouw, Basics of Creative Writing
"The course is well conceived, challenging and is backed up by an experienced tutor. Helen skilfully and accurately diagnosed a very common writing problem from the exercises I completed, namely that my prose was overwritten and a shade purple. No one had told me that before, I found it so valuable. That alone was worth the price of the course, not to mention all the other valuable insights I gained. It was exactly what I wanted to take my writing to the next level and now I hope to see my work published. Overall, it was an enjoyable, apprentice-style course that has challenged me and equipped me with practical writing tools." Andy Evans, Basics of Creative Writing
"I found the course far better than I expected and very worthwhile. I found Helen Brain very helpful and encouraging. I feel that I've learnt a lot from her and for that I am very thankful." Daniel Coe, Basics of Creative Writing Course
"Fantastic [course]. I learned a great deal, had fun and wrote a scene that my children have read and want to know what happens next. It made me write everyday which I loved. It was scary to show myself but exciting to watch my progress and self confidence grow. To have someone help shape my writing and be honest with me was invaluable. Helen's constructive criticism has already become lasting guidance for me. Helen's comments at times made me blush with a Homer Simpson "Doh" at mistakes I made but also laugh at myself too. She was honest, encouraging and at the same time strict which was a very good thing." Lucie McIntosh, Basics of Creative Writing Course
"A wonderfully positive experience! This course improved my writing, it gave me confidence to tell people I write and I now share my work with others. I was a bit sceptical about doing an on-line course, fearing a lack of the "hands-on" approach but my tutor Helen Brain quickly put those fears to rest. Helen's replies followed swiftly with excellent feedback. Course material and completion requirements were delivered promptly, I found them informative and to the point. I loved doing this course with Helen and hope enrol for the Advanced Creative Writing Course. This course helped my writing tremendously." Karin Lamprecht, Basics of Creative Writing
"It was a wonderful experience. I loved that I was able to go at my own pace. My tutor Helen was detailed in her feedback and if I did something well, she would tell me. It was an amazing course and definitely met my objectives. I learned a lot and had fun at the same time." Michael Mountain, Basics of Creative Writing
"A very pleasant learning experience. I thoroughly enjoyed the course and am finding what I learned very useful. The course was well set-out and easy to fit in to my busy life. Overall, it made a very positive, good impression on me. I would recommend it to others. I really did appreciate Helen's positive encouragement. She really did inspire me to be a better writer. It was excellent. No negatives at all. Keep up the good work!" Jenny Lovemore, Basics of Creative Writing
"Helen is a brilliant tutor who gave me the 'push' I needed to improve my writing. She sees a student's true potential, and knows just the right way to bring it to the fore. Thank you Helen! I thoroughly enjoyed the course, and have become a better writer for it. Having now completed two courses with the college, the reason I come back is for the manner in which the courses are taught, the excellent tutors and the comprehensive course material." Bronwyn Katzke, Basics of Creative Writing
"The course was very easy to follow, enjoyable and more importantly, it was fun. People see writing as boring; this course shows it is a whole new world and an adventure. Helen was lovely. Always full of encouragement and praise. She was also quick to point out any mistakes or weakness as well, but always done in an encouraging fashion, and then on top of that, she will tell you how to improve on it, or how to fix it. You cannot do anything but improve under this sort of tuition. I enjoyed this course immensely and will request Helen again as my Tutor should I do another writing course. I will be back for more!" Michael Taylor, Basics of Creative Writing Course
"I've found the course very helpful in terms of my job as a communications officer. I feel more confident of my writing of press releases now. The positive feedback of the tutor helped me a lot and encouraged me to think outside the box. She created an atmosphere that was conducive for learning. This course is value for your money, excellent if you don't have the time to physical attend a course. Great online services." Laticia Pienaar, Press Release Writing Course
"I felt the course was set at the right level, and had exactly the right content for me. The notes and exercises flowed well and enabled me to progress. I felt my tutor's feedback was always right on the mark and focused on what was important. I have been impressed with all aspects of the Writers College. It's not always easy to know what you are getting with an online course, but I was very happy with my course. It appears to be very professionally staffed and run." Suzanne Main, Basics of Creative Writing
"I had a need for basic training and the opportunity to grow as a writer. And this course provided it in an attractive, efficient and a no-nonsense way. The overall efficiency was excellent and made the work during the course very easy. My tutor was very, very good. I had quite a few email interactions and I found Helen to be very approachable and to the point with her comments. She understood where I am going and directed me accordingly. Thank you." Danie Markgraaff, Basics of Creative Writing
"It was a very inspiring course. It was so nice to know that I don't have to just 'know' how to write and that help is available to teach and guide me. I really appreciated Helen's input; it made so much sense. Helen was so gentle when my work could have been better and so encouraging and motivating when it was good. She explained things carefully and made very valid suggestions. The course was a very positive experience that has introduced me to the world of writing and has inspired me to continue working towards my dream." Jessica Welch, Basics of Creative Writing
"Helen is great. It took me a while to feel ok about sending work. I imagined that she was rolling her eyes and trying to come up with positive comments even though she thought it was rubbish. I have got over that now. Helen has helped my confidence. The admin staff were wonderful. Prompt, efficient, friendly, also with useful feedback at the start and end of the course." Kay Fechney, The Basics of Creative Writing Course
"A big thank you to the Writer's College for providing such an amazing opportunity to get me back on to the path of becoming a writer and helping me fulfil a life-long dream!" Surani Ramachandra, Basics of Creative Writing Course
"My tutor was great: prompt, relevant responses; minimal "interference"; much encouragement. You are doing a great job. I also recommended your school to my sons who both completed courses with you over the past year: Basil Mackenzie (Magazine writing) and Bernard Mackenzie (Travel writing). Lonkie Mackenzie, Basics of Creative Writing
"I've had a very positive experience with the course – I enjoyed it very much and learned a lot as well." Janette Stratton, Basics of Creative Writing Course
"I have done two previous Creative Writing courses – one on tertiary level and another through ***** College – and this was by far the most relevant. An excellent course! Helen was fantastic. She was encouraging and spot-on with her feedback – it is obvious that the writing skills that she teaches are as natural as breathing for her." Bianca Wright, Basics of Creative Writing Course
"Helen was very professional and knowledgeable. Her feedback was spot-on and constructive. I think the quality of the course is excellent and I have recommended it to others." Yvonne Erasmus, Basics of Creative Writing Course
"My lecturer was fantastic. With prompt feedback, good advice and always willing to answer any outstanding questions I had. Thank you, Helen. I did research on Google, checking out various different institutions offering writing courses. The reason I chose your college is the fact that it is so personalized, one can register whenever one feels ready and it is good value for money. Having completed the course I now have a greater understanding of the concept of creative writing, as well as good feedback and encouragement. So in essence the course definitely gave me what I was looking for, hence the overall excellent review. Thank you for the opportunity you gave me to expand my writing skills and I look forward to the next course." Ronnie Rothkegel, Basics of Creative Writing
"Helen was amazing. I knew from the first contact with Helen that the course was going to be both inspiring and helpful. Helen helped me discover a way of writing I had never even thought of approaching. She coached my own voice into the light and for that I will forever be grateful. Helen is a gifted teacher and I am honoured to say that I've studied with her." Dina Taute, Basics of Creative Writing
"Helen Brain was great. She encouraged me to write more, and helped improve my writing. Having someone else's opinion makes all the difference." Rachel Anderson, Basics of Creative Writing Course
"I really enjoyed the course, and am disappointed that I'm finished. So for purely selfish reasons, I wish it had been longer. Helen was professional, knowledgeable and helpful at all times. I appreciated her constructive criticism, as it always made me strive for better marks next time. I am looking forward to another course through the college as soon as I can afford one!" Crystal Withington, Basics of Creative Writing Course
"I was very happy to have Helen as my course lecturer. She was very straight forward and to the point, and was able to explain why something would work better in a very good way. I enjoyed the course very much and hope to do another course beginning of next year." Shannon Harling, Basics of Creative Writing
"I think you have waxed it, so to speak. The guidelines in your course are easy to understand and apply, and they really helped me to improve my writing. I'm thinking of doing another course with you guys, so my name will pop up on your screens sometime soon!" Waldo Ungerer, Basics of Creative Writing
"I loved doing this course with Helen. I really learnt a lot, especially about writing dialogue, which I have always found challenging. Helen really is so kind and wise with her praise and criticism – so necessary when dealing with the fragile egos of (wannabe) writers. She is a born teacher/mentor – can't gush enough about her. Thank you for providing so much support to aspiring writers." Shannon Willis, Basics of Creative Writing
"I have absolutely loved this course and have learnt so much about creative writing that I didn't know. I really enjoyed every moment of it. Helen is a great tutor, and yes, it has inspired me to keep writing." Rachel Kiel-Taylor, Basics of Creative Writing Course
"I really enjoyed this course and the content was very helpful and applicable. I look forward to completing another course with you. Helen was very helpful and knowledgeable, her advice and feedback was brilliant; she showed me problems in my writing I had never known existed and which I have now been able to fix." Chelsea Haith, Basics of Creative Writing
"I enjoyed the course and definitely learned a lot about creative writing. My structure improved and I have a better understanding of the different components that make up a story as well has how to use them to generate different moods. Helen was a very good and patient tutor. She was always prompt with her replies and was happy to answer any questions or queries I had. I think you guys offer a very valuable service. We live in an era where we are encouraged to suppress our creative sides and focus on more logical studies such as science, mathematics and computer programming. While these studies are fascinating, I feel it is important to explore your creative side as well. Sadly few people do nowadays. This website gives me a great way to explore and refine my creative abilities at my own time and leisure so it is perfect for me." Ofir Marom, Basics of Creative Writing
"I enjoyed this course and the challenges, especially trying to be a lot more careful with my choice of words. It is encouraging to know that I am capable of writing at this level." Beaulah Pragg, Basics of Creative Writing
"I think the real value of the course is in the feedback you get. The fact that Helen put in a "nice" or "I like that" after a paragraph really inspired me to try and get more of the same. Thanks, Helen! This was my first venture into doing a course on-line as well as a first in creative writing. For me the whole experience was extremely positive. I cannot think of any negative experience I had. For me the course was truly an eye opener, I learnt a lot and can't wait to dig into the Travel Writing Course." Johan Schultz, Basics of Creative Writing Course
"The course was more than I expected so I rated it excellent on every point. It's not very often an event and a person can alter and influence a person`s thinking and capability in such a positive way; being tutored by Helen on this course did just that. Helen`s guidance and experience are exemplary. I feel numerous new doors have been opened to me with the creative side of writing and I am looking at continuing this by doing the short story course as a follow up, so I will be in touch." Kabir Ramdew, Basics of Creative Writing Course
"In terms of feedback, I must say that the course was great! As my first ever attempt at writing or learning about it, I found it at just the right level for a beginner. Helen's guidance was valuable and the coursework interesting and exciting. I will be looking for more courses in the future as the bug has successfully bitten me!" Aimee Fouche, Basics of Creative Writing
"Thank you heaps! The course was great. I am really happy with everything about the course." Nicky Smith, Basics of Creative Writing
"Helen Brain was an exceptional mentor and gave excellent feedback, encouragement and guidance throughout the course. Her responses were always prompt and detailed and her criticism constructive." Ariella Caira, Basics of Creative Writing
"Thank you for a wonderful course." Krpasha Govindamsay, Basics of Creative Writing
"The course was wonderful in every respect." Gill Palliser, Basics of Creative Writing
"Helen Brain is a gifted teacher and got me going in creative writing. I didn't believe that I could do it but Helen believed otherwise." Nico Du Plessis, Basics of Creative Writing
"I think that the course content is excellent – I learned many new things, things that I would never have even thought of before doing this course. Helen was very helpful, and I loved her feedback – she inspired me to try my hardest and made me feel like I really have talent to be a writer. I will definitely be recommending this course to anybody I know who wants to write, especially because Helen is the lecturer." Cheryl Childs, Basics of Creative Writing
Photo credit: jjpacres