Christo Valentyn completed the Magazine Journalism Course in 2007. Apart from selling articles to big titles like Cosmopolitan and Longevity, Christo has carved a niche for himself as a successful motoring journalist.
An Interview with Christo Valentyn
What writing successes have you had since completing your course?
I consider every published piece a success, but some do feature more  prominently than others.
My course assignment, which I sold to Cosmopolitan, remains a highlight, as is a piece I did for Longevity earlier in 2010 that was mentioned on the cover as a 'special report'.
In terms of motoring – which I specialise in – 2010 has seen many successes: I was appointed editor of a new motoring website, DieselDrive, which has been and still is a great experience. I had a story in the Wheels Annual, and three in Afrikaans magazine, WIEL. What made them extra special for me was that I grew up reading Wheels and WIEL and never thought I'd see my name printed on their pages.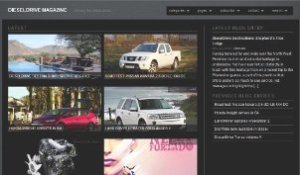 How does it feel to sell your first article?
Surreal! When I had to decide on a subject and a publication for the course assignment I decided on music, one of my passions, as subject, but deliberately chose a publication outside of my comfort zone. Karin (Schimke) was very supportive and gave a lot of very constructive (often highly frustrating) feedback, and when I was finally done with it I never wanted to see it again! I stumbled upon it about six months later and decided to give it a shot. The commission arrived the very same day and I was genuinely dumbfounded!
What have you learned from actually working in the industry (as opposed to the theory of it)?
I remember being sceptical about many of the claims made in the course notes, but in the years since completing it I've come to realise that it's shockingly accurate in its portrayal of freelancing. I've learned that freelancing is the hardest way to get published, but also the most rewarding. I would die if I were to be stuck in an office, forced to churn out the one article after the other. That said, I've also learned that nothing is impossible for a freelancer – with the right attitude and perseverance you can confidently sell your articles to any magazine under the sun.
What tip(s) would you give other aspirant journalists?
Remember that you're not just selling words. Your name is your brand and if you plan to make a decent living from freelancing, you need to work at and market your brand.
I strive for excellence in everything I do, but it's often the little extra things that result in additional work coming my way. For example, I always try to submit articles a few days before deadline (I've only ever had to ask for an extension on deadline once). I always offer to change or rewrite should the editor not be entirely happy (it's happened once). I supply a list with links to all resources used in research to make fact checking easier.
If your name has registered with an editor as someone who is professional, who delivers on time and according to brief, they will turn to your first for additional work. It also makes it easier to negotiate rates!
 "I've also learned that nothing is impossible for a freelancer – with the right attitude and perseverance you can confidently sell your articles to any magazine under the sun."
Where to next for you?
In the next year I want to stretch myself even further than I have thus far! In terms of motoring, I want to focus on more in-depth editorial content for DieselDrive while on the business side my attention will also shift to expanding readership and securing advertising for the site. This year I started writing in Afrikaans (which I haven't done before), and I'll now also be utilising this in the world of newspapers thanks to an amazing opportunity that will give me nationwide exposure. I love travelling and want to do it more frequently. I want to hone travel writing skills in order to more efficiently tell stories about the places I see. I also want to attempt features for at least three magazines in which I've not yet been published!