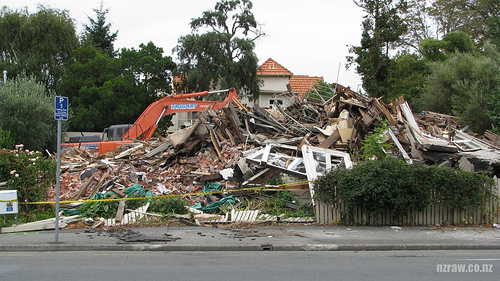 Broadcast journalist NOEL CISNEROS was called to duty by ABC News in the US to cover the earthquake in Christchurch, New Zealand. She filed reports for America's #1 morning news program, "Good Morning America", ABC Radio News Network and ABC News San Francisco.
Here are 8 tips she offers to reporters working in disaster zones.
On 22 Feb 2011, a 6.3 quake hit Christchurch. It killed 182 people and damaged more than 100,000 buildings. It flattened huge sections of the central business district and knocked out most of the electricity and sewerage to a city of 400,000 people. ABC could not get their regular Beijing correspondent into the zone quickly enough because of airport closures. When they found out a former ABC reporter lived just 5 hours north of the zone, they called me into action. I thought I'd take a minute to give you some advice should you be called to report from the scene of a major catastrophe.
1. First of all, remember you will be on your own. Do not count on any services at all. Gas up and stock up as early as you can. Long gas lines began an hour outside of the disaster zone. Had I not gassed up before approaching Christchurch, I would have been stopped before I even got there.
2. Buy water. Lots of it. Though I live 220 km from Christchurch, when I went to the biggest store in my area for supplies, they were already running out of water. I got the last flat. Stock up on granola bars, energy bars, anything that will keep. You may not encounter food for days. We lived on granola bars for 3 days.
3. Buy hand wipes. The quake knocked out four of the city's five water treatment plants. 200,000 people were sharing 2000 portable toilets. Not pretty. It took them nearly a month to get another 20,000 toilets to serve the city and still, two months after the quake, sanitation is a huge issue for Christchurch.
4. If you plan to do this kind of reporting, consider investing in a hand crank flashlight/radio receiver/cell phone charger. When no one has electricity, if you can't charge your phone, you can't file reports. Getting radio reports will be invaluable. Remember, cell networks may be impaired, so getting calls out, or via the Internet, is problematic. Even the disaster command headquarters for Christchurch had no Internet. Though you may be in the centre of things, you will be out of the loop for the bigger picture.
5. Get media credentials from your sponsoring organization before the fact if you can. Soldiers and police protecting a disaster zone from looters get very sticky about checking credentials at checkpoints.
6. Work fast. If you're approaching the disaster zone, as soon as you notice impact phone it in. Broadcast is about immediacy and your first reports will allow your news organization to show it has quick and far-reaching response to news.
In a huge breaker like a quake or a flood, no one expects the first reporter on the scene to have all the information. The big picture is probably being pieced together by the wire services anyway.
7 Notice details. Your editor will count on you for scene setters. What do you see, how does it smell? What does it look like? Paint a picture. Get your interviewees to describe what they've been through – what they've seen, heard, felt. How did it impact them personally? Did you see something that amazed you? It will amaze your viewers and listeners too and your assignment desk will look at you as the go-to person for major stories. You want them to think of you as the dependable, can-do provider of first-rate reports.
8. And finally, remember your sponsoring organization is counting on you. Don't be a problem to your editor. Be the solution. Be accurate. Tell only what you know or have observed. Take a few deep breaths before you file to moderate your voice. File often. Then drink some water, wash your hands, eat a granola bar and do it again.
Good luck! You can sleep when you get home.
About the Author
Noel Cisneros worked as an American Television Reporter for nearly 20 years. She worked in San Francisco radio for 10 years. As a TV reporter for ABC and NBC in San Francisco, California, her work earned her American journalism's highest honours: four Emmy Awards and The George Foster Peabody Award. She was awarded a Fellowship by the RIAS/Berlin Commission to study modern Europe in Berlin, Prague and Brussels.
She has reported from the scenes of California's earthquakes and riots, forest fires and financial collapses. She has interviewed Bill and Hillary Clinton, numerous United States Senators and celebrities, school children, one billionaire, thugs, ne'er-do-wells, posers, athletes and people just trying to get by. Over the course of her years in the business, she figures she's done at least 2000 live shots and eaten more meals in a moving vehicle than not.
Photo credit: flickr.com_nzraw.co.nz