Creativity coaching for writers is a relatively new field, but it's one that is cutting-edge in terms of assisting writers to achieve their personal dreams.
What is Creativity Coaching?
It was Sylvia Plath who famously claimed: "Nothing stinks like a pile of unpublished manuscripts". She could also have said nothing stinks like a pile of incomplete manuscripts or imaginary manuscripts.
These are common problems faced by many writers: not getting started, not finishing, not submitting completed manuscripts, or not revising rejected manuscripts.
Fortunately, these common problems do have solutions – and these solutions can be found in creativity coaching.
A creativity coach supports writers in investigating their self-doubts, fears, hidden beliefs, perfectionism, procrastination, career isolation and other issues that interfere with getting their creative work done. Creativity coaches also support writers in exploring their dreams, passions and inner truth.
Too many writers struggle along with no active emotional support. It's often difficult to find someone who understands their artistic challenges and concerns. Half the time they don't even understand them themselves!
Many people who sign up for creativity coaching do so because they simply couldn't finish working through creativity books on their own.

Some people just need help on a current project or specific creative issue; others need to deeply explore all aspects of their current situation to try to clarify their career direction or comprehend what is holding them back.
Creativity coaching is for all writers, not only those who write fiction. Creativity is a vast and wonderfully rich topic; all writers, as inventors, require generous dollops of freely expressed creativity. So even if 'creative writing' is not a writer's genre of choice, this is irrelevant, as the coaching focuses on the process, not the product.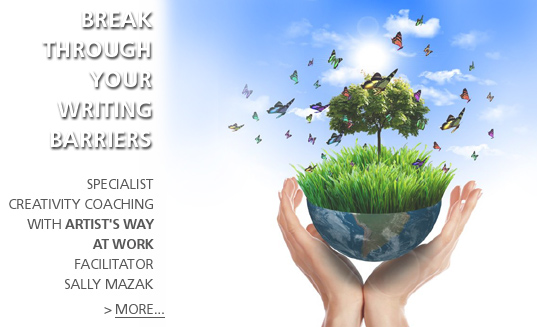 Why do people choose to work with a Creativity Coach?
A creativity coach joins writers to help them achieve what they currently feel they can't do on their own – whatever that is for them personally.
Sudden career shifts, writing blocks, ideas being rejected, lack of confidence, bad writing experiences, burn-out, even dealing with success… the list of reasons people begin creativity coaching is extensive.
Working with a creativity coach on a course will help writers
tap into their strengths
clear away the clutter clouding their concentration
uncover the hidden beliefs holding them back
learn techniques to assist their writing process, helping them long after they have completed the course.
How creativity coaching works
Creativity coaching gives writers the opportunity to work through aspects of their writing life, including challenges, insights, emotions, breakthroughs and dreams, to result in an inspiring calmness that allows their writing to flow more easily.
Many writers want to feel more confident or settle the chatter in their minds, in order to calm down and write effortlessly. So many people simply want to learn 'creative-life' survival methods and skills for self-regulating.
Because many writers spend so much time and effort on their own, this can limit their opportunities to hear what other writers are going through, such as similar challenges or successes. Some people simply don't want to join a group – a major advantage of coaching is that it can (anonymously) bridge the gap between writers by sharing the valuable insights learned and shared by others.
Doing the Break Through Your Writing Barriers Course at The Writers College
This course can help students define or even completely re-define their direction as a writer. It could help them reveal the place they want to be right now, not yesterday, two years or ten years ago…
Each week, students focus on an aspect of creativity, in the context of their writing, to develop their awareness and confidence. The more students understand their artistic self, the more endurance they will have during the challenging periods. The more self-assuredness they develop, the more they will trust themselves.
This steady week-by-week approach assists students in gradually working through a variety of topics that will stretch and grow them into more mature creatives who enjoy trying new things. Some aspects will challenge them, and others will feel effortless and fun.
The Creativity Coach – Sally Mazak
Sally Mazák is a Creativity Coach and Mentor. In 2004 Sally trained as an Artist's Way at Work* (AWAW) facilitator with Mark Bryan (co-founder of the Artists Way workshops with Julia Cameron) in the USA. She has since shared this knowledge as a specialist coach. Sally is the only AWAW facilitator in Australia and New Zealand, and works with all writers, from beginners to highly experienced writers. She guides and supports writers and artists to work through their creative challenges.
Sally has a BA in Graphic Design, and has worked for almost two decades as a graphic artist. She has written and illustrated greeting cards (The Ink Group/John Sands), published a children's book, and won a Qantas poster competition.
*Please note The Artists Way at Work is a different book/course, yet is connected to The Artists Way.
For more information about the Writers College Creativity Coaching Courses
Contact Koos at the Writers College.