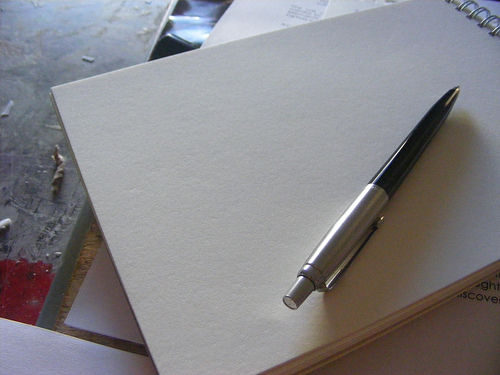 "Every writer I know has trouble writing." – Joseph Heller
"Never, never, never, never give up." – Winston Churchill
One problem that all writers face is the dreaded "writer's block": when you have a blank page in front of you, pen at the ready … and zero ideas. This can strike at any point in the novel – or in your career.
How to deal with getting stuck?
It's not permanent. The first and most important thing to realise is that having an off period is natural and perhaps even necessary, and no reason to despair. Everybody goes through phases of feeling less than inspired – but your energy and excitement will return.
Come back later. If you're battling with a piece that really seems to have hit a dead end, the best advice is to put it away and not look at it for a time – days, weeks or even months. Move on to something different. When you read over your old work with fresh eyes, you'll be amazed at how good it can seem.
Keep going. Try to keep writing through the block – although not necessarily on the same piece of writing – even if it's the last thing you feel like doing. Even if you don't produce anything wonderful during this period, at least you've kept your hand in.
Take a walk. Sitting at a desk all day racking your brains for words is draining. It helps to get out every now and then and do something completely different, like listening to music or some kind of physical activity. Paul Rudnick – playwright, screenwriter and novelist – writes: "Writing is 90 percent procrastination: reading magazines, eating cereal out of the box, watching infomercials. It's a matter of doing everything you can to avoid writing, until it is about four in the morning and you reach the point where you have to write."
A lot of writers are big walkers – it seems the rhythm of walking is a natural complement to the rhythm of writing, and helps to dislodge stuck ideas!
ABOUT THE WRITERS' COLLEGE
(NZ Writers' College, SA Writers' College, UK Writers' College)
We are an online writing school with three country-specific branches offering 29 specialist online writing courses run by multi-award-winning authors, journalists, scriptwriters, poets and copywriters. From journalism to creative writing courses to writing for the web, our courses offer one-to-one tuition at an affordable cost.
Our tutors have collectively accumulated more than 40 international writing awards, including many Qantas Awards, several Commonwealth Writers' Prizes, four Emmy Awards, the Montana New Zealand Book Awards, ATKV Awards, the Caine Prize for African Writing, the Pen/HSBC Awards, the Sir David Beatie Award, the George Foster Peabody Award and the Reed Fiction Award.
We offer no-nonsense, practical, challenging training for writers who are serious about getting published. Contact us for more information about our courses.
Photo credit: flickr.com_Guudmorning!