BY GENTE COETZEE
Anoeschka Von Meck is Namibian born writer with a magnificently contagious laugh and magical ability for story telling. She is also the winner of four writing awards for the inspiring novel Vaselinetjie. Anoeschka gives us a peek into her personal experience of writing.
 Q: When did you first know that you wanted to be a writer? Was there a light bulb moment?
Writing happened naturally. I'm told a story by my mum and grandmother that as a toddler I often refused to get out of the bath even when all the water had already run out.
I would lie on my stomach and seem to be busy doing something with my hand on the bathtub surface.
"I can't get out yet," I would tell my mum.
"And why is that?" she would want to know amused.
"Because I'm busy writing."
I could read at about four years old and soon afterwards began to write, making up my own stories. At primary school I often filled up a whole book in the first few days and I had to get new books constantly, while the rest of my classmates had maybe two scribblers for the entire term! As I got older I began writing down things in diaries and that eventually changed into letters to God – which I still do today at the age 48.
Q: Do you experience emotional healing and comfort from writing?
Absolutely. Although my space is usually very calm and neat, my mind is often racing and my awareness is on many levels. Bringing motion into my hands onto the keyboard serves as an action, which focuses my attention, and I love how what 'manifests' on the screen in front of me is organized. I enjoy capturing and transforming uncontrollable events into an emotional landscape, which I can now 'control.'
Q: How do you maintain balance between writing as a job and writing as a passion?
I find having to work as a journalist has brought my creative writing almost to a halt. The systems are too different. Journalism is about reworking loads of information in the smallest possible understandable unit, while creative writing is just the opposite – 'show and don't tell!'
Q: Do you feel satisfied as a writer/journalist?
No. I have done too little, but at the same time if I had written a book every year or even every few years, I may also be ashamed right now, because one book takes a long time to mature and I would have hated to have my name on frivolous books with nothing worthwhile to convey. My ultimate dream would be to write travel-cum-spiritual books, but it's not the type of thing you can fake. You need to have REAL revelation in order to write something substantial.
As a journalist I have done pretty well and feel proud of most my work. I have only lied twice in a newspaper article. On both occasions I wrote that people had died on impact in a car crash, when in fact they had been trapped for minutes before the car exploded. I didn't want their families to know that.
Q: Are there any special projects you are working on at the moment?
There are always projects in my head, but at the moment I'm writing a book about someone with an eating disorder and I'm also toying with the idea of trying my hand at a radio drama for RSG about UFOs in the Karoo.
Anoeschka's four well-deserved writing awards for Vaselinetjie are:
Jan Rabie-Rapport Prize (2005)
MER Prize for Youth Literature (2005)
M-Net Prize for Afrikaans text in short format (2005)
ATKV Prize for Grades 8-10 (2006)
About the Author: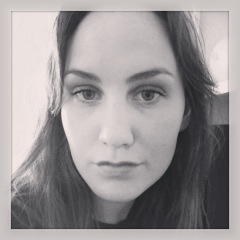 Gente Coetzee is a freelance writer based in Cape Town and soon-to-be psychology student. She writes articles and poems about her experiences, which she has shared on her blog, Always add love, and webzine Elephant Journal. When Gente is not writing, she enjoys connecting with nature and has a great interest in people, their stories and how the human race finds purpose and peace in their day-to-day life.