Giving interviews is very practical skill. Here are four online resources where you can learn how to become a master interviewing.
BY ALEX OWEN-HILL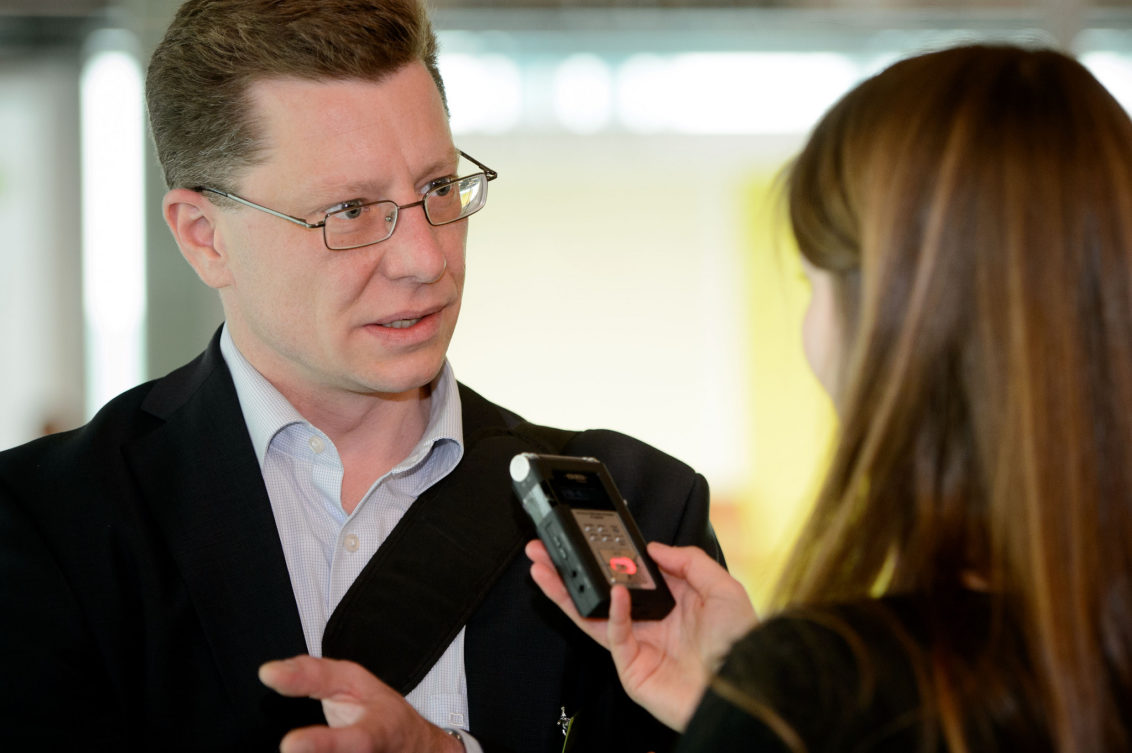 Interviewing is a vital skill for non-fiction writers, and even for some fiction writers. You might believe that interviewing is a natural talent – some writers have it, the rest of us just muddle through. You can't learn how to be a master interviewer, right? Wrong.
Like all writing skills, you can get better at interviewing through practice and training. However, it is hard to find good, online resources which teach interviewing skills. Here at the Writers College Times we've discussed the minefield of email interviews and the basics of social media interviews.
Face-to-face interviews are a whole different story. Here are resources to help you polish your skills.
This free course from Chip Scanlon, author of "News Writing and Reporting: The Complete Guide for Today's Journalist", teaches you how to be an effective interviewer using a fun, interactive format. Another relevant course for interviewing is "Lousy Listeners: How to Avoid Being One."
Even though it is aimed at journalists, the Poynter News University is an indispensable resource for any non-fiction writer. It provides hundreds of self-directed courses and webinars on a huge range of non-fiction writing topics, from avoiding plagiarism to mastering the craft of revision. The best thing? Many of the courses are free!
In this post, reporter Jacqui Banaszynski gives seven tips on how to avoid being boring so that you can get the most from your interview subjects.
The Poynter blog is also filled with great information for writers. It covers most journalism skills from fact-checking to storytelling. You might notice some crossover with their News University, as course instructors often contribute to the blog. To improve your interviewing skills, some useful posts include: the 12 basics of interviewing, how to prepare for an interview, how journalists can become better interviewers, overcoming shyness in interviews and how to decide if your source is reliable.
This section is devoted to interviewing. It is slightly geared towards broadcast journalism, but don't let that put you off. The skills of good interviewers are similar across all media.
The BBC Academy is an amazing resource for writers, mostly because it includes video clips with interviews from leading journalists. The Academy have several sections on different journalism skills, including ones devoted to effective writing and careful grammar. They also have a great supporting blog.
This episode from Jessica Abel's podcast Out on the Wire is something extra special. It teaches you the whole process of conducting a great interview, from finding inspiration and writing questions to conducting the interview like a pro.
Podcasts are an indispensable tool for learning interviewing skills. Why? Because many podcasts are only interviews! You can listen for yourself and figure out what makes a good (or bad) interview. Many podcasts have very little editing, so you can hear the whole interview from start to finish. It's like getting free access to another writer's interview tape. If you haven't heard any podcasts yet, here's a list of nine podcasts for journalists.
Nothing Beats Practice
All these resources will set you on your way to becoming a great interviewer. However, nothing beats practice. So, grab your recorder, do that all-important, pre-interview research, and go interview someone!
About the Author:

 Alex Owen-Hill is a freelance writer specialising in science, technology and fascinating research. He is an Editor at Cosmopolita Scotland and has been published in Daily Coffee News and The Skinny. He also has a PhD in robotics and makes short films when he has the time. Find him on Twitter @AlexOwenHill.
Photo credit: Flickr.com-Heinrich-Boll-Stiftung