Getting sustainable traffic to your website is hard work and it doesn't happen overnight. So ignore all the pop-ups that promise you Number One Google results or gazillions of links to search engines because most of them are just hocus-pocus smoke and mirrors.
The only real way to get sustainable traffic to your website is to abide by the basics.
1. Use good website/blog architecture.
Don't try and build anything from scratch yourself unless you know what you are doing. Use something solid like WordPress.
2. Learn to write for the Web.
I know many people are quite sceptical about this, but ask my students who have completed my two courses, they will tell you that things began happening with their blogs and websites that they could never have imagined.
3. Link. Link. Link.
You need to learn and understand what linking is all about. After all, the Internet is just a whole lot of links, isn't it? We tend to get so concerned about incoming and outgoing links that we forget to link internally.
4. Generate natural traffic through the search engines.
Of course, generating natural traffic through search engines is one of the best ways to market and promote your site – not only because you're getting highly targeted traffic, but also because that traffic is virtually free.
If you have a brand new site, this will obviously take time to happen. Remember, your goal is to get on the first page of Google for your target keyword(s), and depending on the niche you're in it could take months, or it could take years. (You can help it along by spreading it around the Web via Social Media).
Here is where your research and writing skills come into play – the content you publish on your site is hugely important. It should be unique, extremely detailed and useful, or else you're not going to get anywhere. The days of cutting and pasting are over.
Think about creating content so good that it doesn't deserve to be anywhere else but at the top of the search engines, and on everyone's Facebook and Twitter streams.
5. Use social media to draw visitors to your website.

When your content lands in the Twitter or Facebook streams, people must immediately want to read it and share it. This means you need a great headline and intro paragraph, a good image and really well written topical content.
Those are my basics, and if you get them right, you will already see a significant change to your traffic.
There are many other ways to generate traffic for your website or blog, but if you start with these pointers, you'll be ahead of the pack. Good luck!
About the Author: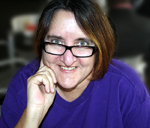 Karen Lotter is a journalist and writer specializing in creating websites, writing creative and interesting content and optimizing sites for search engines.
She has written profiles, features, advertising copy, obituaries, press releases, and columns in magazines, company newsletters and newspapers, and written and produced corporate scripts.
Karen tutors the Writing for the Web Course and the Writing for Social Media Course at the Writers College.
Photo credit: flickr.com_cambodia4kids.org
©  The Writers College, All Rights Reserved